4 Ways to Maximize Your B2B Marketing Budget
In B2B tech focused industries, creating authentic and compelling content is essential to engage your target audience and build a loyal following. However, with limited resources and tight budgets, it can be challenging to produce high-quality content consistently.
One of the best ways to overcome this challenge is by leveraging the power of existing communities to create content. These communities can include employees, customers, partners, and even industry influencers who share your vision and values. By tapping into these communities, you can gather insights and feedback on your target audience's needs and preferences, and create content that resonates with them. Here are some ways you can leverage these communities to create authentic content:
1. Empower Employees as Brand Ambassadors
Your employees can be a powerful source of content creation. Encourage them to share their expertise and insights on social media, podcasts, or even webinars. This can not only help build their personal brand but also humanize your brand and showcase the expertise of your team.
2. Co-create Content with Customers
Your customers are often the most authentic voices in your community, and typically carry the most weight when it comes to things like referrals and organic business. It's critical to empower the voices in your buying community by collaborating with customers on case studies, testimonials, or even product demos. Also consider creating a customer advisory board or hosting customer focus groups to gather feedback and ideas for content.
3. Partner with Industry Influencers
Industry influencers can help expand your reach and credibility. Collaborate with influencers who share your values and have a similar target audience. You can co-create content, invite them to speak at webinars or events, or even offer product demos for them to review.
4. Leverage Community-Generated Content
Your internal and external communities can also create content on your behalf. Encourage them to share their experiences with your products or services on social media or write reviews. You can also host contests or campaigns that encourage user-generated content creation.
Leverage technology to help create this authentic content without breaking the bank. Tools like MarketScale Studio can help you create high-quality videos and podcasts with minimal resources. Just remember to focus on the story and message, not just the production quality.
By leveraging existing communities and technology, you can create authentic and compelling content that resonates with your target audience. By doing so, you can establish your brand as a thought leader and build a loyal following over time.
Latest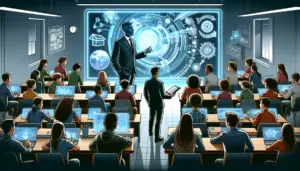 November 27, 2023
In an era where education stands at the crossroads of tradition and innovation, the potential value of thought leadership becomes the guiding star for progress. "Just Thinking" dives into this potential with host Kevin Dougherty and guest Evan Edwards, a Professional Learning Specialist at 806 Technologies who exemplifies the transformative impact of visionary guidance […]
Read More