Influencer Fatigue and Deinfluencing Hashtags Show Gen Z's Ability to Sniff Out Inauthentic Content
If you're growing weary of the constant bombardment of paid content and sponsored posts on social media, chances are you're not alone. Market research firm GWI found that Gen Z's engagement with influencers has fallen by 12% since 2020. And now, terms like influencer fatigue and deinfluencing are growing in popularity as consumers share their discontent with an inundation of influencer marketing.
In fact, deinfluencing has become a viral trend on video sharing platform TikTok. With millions of hashtags, this trend actually involves internet users listing out the products they regret purchasing. Some influencers themselves have even jumped on the bandwagon. And while influencer critique has been around for a while, it really exploded to industry-wide prominence last month when a popular beauty influencer was accused of wearing fake lashes while advertising a L'Oréal mascara.
It's clear consumers are growing tired of the current standard for influencer brand partnerships. But will influencer fatigue and deinfluencing have any ramifications on the influencer marketing economy, which is currently worth over $16 billion? Anna Sullivan, founder and CEO of The Creative Exchange, which helps brands create meaningful content for social media, dissects influencer fatigue and gives retailers a more constructive way of viewing the resistance to this marketing trend.
Anna's Thoughts:
"You may have recently heard the term deinfluencing, which is now its own trend on TikTok. After the last few years, I think consumers are getting very tired of influencer marketing and them just promoting products with a full script. So, deinfluencing is where regular users are debunking the myth or the truths that these influencers are sharing about products, and even telling you other brands or products that you should be purchasing instead. So influencer marketing isn't dead, but consumers are just so much more aware of what they should listen to versus try out on their own."
Latest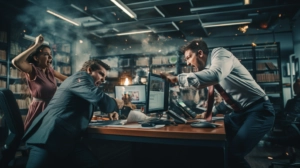 September 22, 2023
The kind of news that is delivered everyday serves as a grim reminder of the escalating violence across the U.S. Evidently, the need for proactive measures to ensure safety has never been more pressing. Such violence is not limited to any particular locale. It's actually permeating in so many different areas once considered […]
Read More