Is TikTok Marketing Relevant for B2B Companies?
There's little doubt that TikTok, once on the chopping block in the United States under the administration of former President Donald Trump, has taken the world by storm.
Users young and old, from Gen Z to Boomers and beyond, use the platform daily to create, like and share short videos that offer everything from helpful life hacks to educational content and the latest trending memes and trends.
But is the juice worth the squeeze for B2B marketers trying to capitalize on the popularity and audience?
To find out, Voice of B2B Daniel Litwin was joined by Kyle Dulay, Co-Founder of Collabstr, a platform that allows brands to find and acquire the services of Instagram, TikTok and YouTube "influencers" vetted by the company.
Though bridging entertainment and engagement is a key focus of many modern B2B brands, selecting the right vehicle to engage in forging that connectivity is critical.
TikTok could be that vehicle for some brands simply due to the platform's friendliness toward more niche interests, which is further boosted by an algorithm that rewards good, valuable content.
Still, though, most of the marketing efforts on the platform have targeted end consumers, themselves – so where do B2B brands fit in?
"I think [TikTok] is useful, but in a way that a lot of B2B companies aren't thinking of it," Dulay said. "If you're looking for instant gratification and instant growth, it's not the place for you. But if you want to look at a five to 10 year outlook and see how you can capture that Gen Z and millennial market – that's the workforce 10 years from now."
Follow us on social media for the latest updates in B2B!
Twitter – @MarketScale
Facebook – facebook.com/marketscale
LinkedIn – linkedin.com/company/marketscale
Latest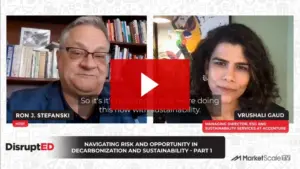 September 26, 2023
The global conversation has shifted dramatically towards decarbonization and sustainability in recent years. With the world experiencing unprecedented levels of disruption, from 5G technology to the challenges of a pandemic, the urgency to address climate change and its implications has never been more palpable. Although most business leaders see the vision of Sustainable Development […]
Read More