A Postmortem on Bloomberg 2020's Marketing and Campaign Strategy: Ratified
Ratified is a radio show hosted by Voice of B2B Daniel Litwin, exploring the intersection of business and policy in long-form fashion.
On this episode of Ratified, we're getting our feet wet with election season content. At the time of release, the Democratic presidential primary is all but settled. Barring some massive shake-up, Joe Biden, former Vice President, will be the nominee for the Democratic Party, ending a long and tumultuous primary race. Many contenders made their case, but we're spending today's episode doing a postmortem on one specific campaign, its message, and its marketing strategy: Mike Bloomberg 2020.
A late entrance to the 2020 race, billionaire Michael Bloomberg, former Mayor of New York city and the 12th richest person in the world, created waves when he entered the primary. Progressives loathed his presence, citing his past as a Republican, and his mayoral and interpersonal workplace records as disqualifying. Moderates were hopeful that his experience and his money would make him, potentially, a better and more resilient choice to go against President Trump than Biden.
At the end of the day, Mike Bloomberg would peak at about 16.5% polling nationally, edging him into second place for a small period of time, before seeing his campaign collapse after a poor debate performance in February and a lackluster delegate count coming out of Super Tuesday, winning only American Samoa. He'd walk away from the Democratic 2020 presidential primary spending over $1 billion on the campaign.
For a while, though, Bloomberg and his campaign seemed like a force to be reckoned with, especially his online presence. So what went wrong? Our two guests provide two different perspectives on Bloomberg's run, analyzing his strategic steps and missteps, the campaign's digital marketing strategy, and some of the broader implications of his self-funded run.
First, we hear from Dr. Lara Brown, Director of the Graduate School of Political Management at George Washington University. Before her time in academia, Dr. Brown served as a political appointee to President Clinton's administration in the US Department of Education, and worked as an educational policy and public affairs consultant in LA and Silicon Valley. Dr. Brown helps us better understand some of the history around self-funded candidates, how Bloomberg's strategy appealed to certain demographics of the Democratic base, and more critically, why the idea of Bloomberg didn't live up to the reality for voters.
Our second guest is Benjamin Dixon, host of The Benjamin Dixon Show and a prominent voice in independent progressive journalism and political commentary. He's the founder of Progressive Army, an independent digital publication, and co-founder of the second incarnation of The North Star. Benjamin Dixon was a critical part of shining more skeptical lights on Mike Bloomberg's campaign; he was the journalist who resurfaced the infamous Mike Bloomberg Stop & Frisk audio from his 2015 Aspen Institute speech, the audio that went viral and become a center-piece talking point on news media channels and in the presidential debates. Dixon joined the program to give some context on the audio and its impact on Bloomberg's chances, how it was received by television stations like CNN and MSNBC, and a broader debate and discussion on how much policy and record impacts a candidate in today's political environment.
Click here for previous episodes of Ratified, and make sure to subscribe to the Ratified channel on Spotify and to MarketScale Radio on Apple Podcasts.
Follow us on social media for the latest updates in B2B!
Twitter – @MarketScale
Facebook – facebook.com/marketscale
LinkedIn – linkedin.com/company/marketscale
Latest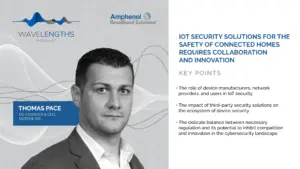 November 28, 2023
Since the introduction of smart devices, the world has increasingly become dominated by interconnected devices but IoT securitydemands are also growing. The "connected home" has shifted from what was once a futuristic concept to reality. With the global smart home market projected to reach $135.3 billion by 2025, the conversation around the security of these […]
Read More