Shattering Glass Ceilings: Women Executives in Manufacturing and Technology

In a 2019 Deloitte and the Manufacturing Institute survey, more than 70% of women participants indicated underrepresentation of women in their company's leadership teams. There is a need for women executives in manufacturing and technology. Now is a prime opportunity for women executives to rise in advanced manufacturing because U.S. manufacturers are facing a projected shortfall of 2.5 million workers by 2025.
Women participation in manufacturing has grown from 3% to 30% over the past ten years. That's good news, but it could be even greater.
On this episode of DisruptED, host Ron J. Stefanski introduced a new guest host to the program. Kelly Ireland, the IoT Community's 2022 Woman of the Year. Ireland, the Founder & CEO of CBT. Ireland and Stefanski previously discussed the evolving role of women in the technology space in a previous episode. As a leader in the tech community and a representative of the women executives in manufacturing and technology, Ireland was excited to bring on another leader representing all the glass ceiling breakers out there with a high "GSD index." Ahlam Alqudah Qaimari, the General Manager at Griffin Glass & Metal Werks. Qaimari's journey is a global one, and she got to share those experiences and insights with Stefanski and Ireland. "I give high credit to my mom, a teacher for thirty-four years," Qaimari said. "My mom, she's a math and science teacher. For all my siblings and me, math is not a choice. It's something the first thing we learn in our life. That's why, when I was in school, that was the easiest subject. I never had to put a lot of effort in because she (my mom) fed me how important math and language were for our lives to be strong."
Stefanski, Ireland, and Qaimari discuss women executives in manufacturing…
● The challenges faced by a woman in tech who originated from outside the United States
● Managing a career, extended education, and a family as a woman leader in tech
● What Griffin Glass & Metal Werks is doing with digital transformation
"We are a fabricator, and we work in the manufacturing industry and fabricator for glass and metal," Qaimari said. "We use high-end technology inside the company between the machines and the programs. We create our own programs. With one click, we have one program that switches from sheet paper to a CAD drawing, where we send it to a machine to read it and convert it to give the machine orders to start running and cutting the piece of glass or to cut the metal."
About Ahlam
Ahlam Alqudah Qaimari is an accomplished Industrial Engineering leader with a strong track record of improving organizations without adding costs in various global firms. Qaimari possesses experience leading engineering teams in a manufacturing setting. Qaimari holds a master's degree in industrial engineering from Northern Illinois University.
Latest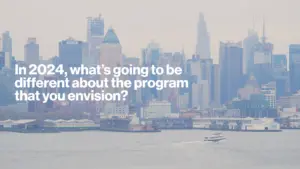 December 1, 2023
In the dynamic telecommunications landscape, Verizon's Partner Network continues to evolve, adapting to new trends and opportunities. For another segment featuring Mark Tina, VP of Indirect Channel Distribution and Channel Chief at Verizon Business Group, he explores exactly what types of significant changes and advancements the Verizon Partner Network will see in 2024. In this […]
Read More