Continued Learning in Engineering Through Media
One thing engineers and medical practitioners have in common is a lifelong career of learning. Education doesn't stop after handing out the degrees; a new chapter begins. Continued learning in engineering is essential, and there are many ways to increase one's skills and advance technical know-how.
Machine Design published its 2022 Salary & Career Report, and this year it surveyed a cross-section of engineers to find out how they're continuing their learning journeys. More than 40% of survey participants hold at least a bachelor's degree or higher level of education, but most find their jobs require additional learning or competencies.
Engineers were among the highest fields surveyed by Machine Design, placing value on continued learning. And the way today's engineers get that additional education and training is not through traditional channels, in-classroom college, and employer-sponsored courses; instead, engineering videos, seminars, webcasts, and technology publications websites were placed highest on their lists.
DisruptED's Ron J Stefanski finds the survey results enlightening.
Ron's Thoughts
"Hi everyone. I'm Ron Stefanski, the host of Disrupted Advanced Manufacturing Edition, and I just got this information, which I find really riveting. In the 2022 Machine Design Salary Survey, they found that engineers value continued education more than many other perfections, and 40% percent, starting with a bachelor's degree still wanna move on.
And many of them, this is what I find interesting, are saying that the way they'd love to continue their education is through engineering videos. Over 43% asked for that. And so media is gonna be a big part of the ongoing professional development and lifelong learning of business, if you will, because it's a way that reaches people where they are.
In the case of engineers, they need to be upskilled on a fairly regular basis. The world around them, through Industry 4.0, is exploding and it looks like media is gonna play a big role in how we educate people to operate in Industry 4.0. Just my take. Thanks for listening."
Latest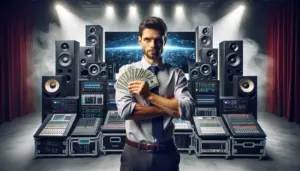 December 8, 2023
Mastering AV sales strategies in a global professional audio-visual (Pro AV) market, poised to reach $79.2 billion by 2028, requires much attention to detail. The surge in demand from corporate, government, and institutional sectors, driven by the need for enhanced productivity and efficient working environments, gives AV sales pros a lot of opportunity. In […]
Read More