AFC Bournemouth and Kitchen CUT Ready for Kick Off
With the UK hospitality industry poised to for a return to business in the coming weeks, AFC Bournemouth have been using the time during lockdown to streamline their Food and Beverage processes with the implementation of F+B Engine from Kitchen CUT.
The football stadium caters for 11,500 fans that come through their gates each match day, accounting for around 4000 transactions.  In addition to this there is a hospitality area for meetings and events as well as the the first team's requirements both pre and post-match catering for 35 players and staff.
Faced with a rapidly expanding operation and a host of manual, disjointed processes, the team at AFC Bournemouth recognised the need to consolidate, automate and centralise.  They needed a system that could manage recipes, menu costing and allergens centrally for each of their outlets.  Similarly, with orders and inventory, the club wanted to manage stock orders and transfers around the various stadium departments.  Having sight of all this in one central place so they could keep track of and report on all areas of their operation was essential.
F+B Engine has provided the functionality to see what products have been ordered by different departments, to track stock movement between outlets and ultimately work to limit any inefficiencies in their operation.  Not only that, but both nutritional information and allergen management are seamless, with allergen information for each product coming from the supplier and automatically passing directly to each sub recipe, recipe, spec sheet and ultimately to a digital menu. Any changes are updated in real time.
The club have now completed onboarding and are ready to kick off as stadiums across the country are set to reopen, not just for football, but for events too.  Speaking about the new implementation, Paul Fudge, Head of Catering Operations said,
"It is great to be teaming up with Kitchen CUT and their cloud based hospitality software.
As we are all well aware, we have been through a major period of unprecedented times and industry uncertainty. I have used this time to put in place systems and structure that will future proof the business and make it more robust when we 'eventually' come out on the other side.
F+B Engine is enabling me to put all my procedures and policies under one roof and build the business on solid foundations so that we can move forward quickly, efficiently, and economically once we see the light at the end of the tunnel."
Kitchen CUT Sales Director, Mark Sanders said,
"With big plans for the future, AFC Bournemouth needed a scalable system that could grow with them, streamline their operation and control each of their outlets from a central point.  They are now equipped with the technology to take them from strength to strength and we look forward to working with them."
About Kitchen CUT
Kitchen CUT is the ultimate in cloud-based, scalable enterprise grade SaaS technology, designed specifically for the hospitality industry.
Established in 2012, our founding principal has been to offer software solutions to businesses of all sizes that are entirely scalable as their business grows. Sign up at kitchencut.com for a free trial.
About AFC Bournemouth
Located just 4.8 miles from Bournemouth Airport and within walking distance of Bournemouth Train Station, direct access from the A338 Spur Road and extensive parking, Vitality Stadium is one of the most versatile and unique venues in Dorset.
Vitality Stadium has a diverse range of suites and executive boxes available, ideal for all occasions from breakfast meetings, training sessions and conferences to exhibitions, product launches, team building sessions, private parties, funeral and wedding receptions, proms and so much more.
Add to this the fantastic views of the stadium, a team of highly experienced chefs using only the finest local produce, followed up by a team driven on service and hospitality, Vitality Stadium has to be the first choice when booking an event.
Latest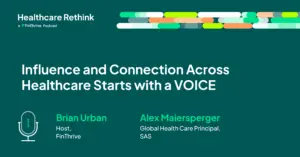 September 29, 2023
In the latest episode of the Healthcare Rethink podcast, presented by FinThrive, host Brian Urban sits down with Alex Maiersperger, the Global Principal Healthcare at SAS. Their conversation charts the role voice plays in influencing and connecting the healthcare industry. Maiersperger, who co-founded the Advancement League, shares his journey from being a healthcare optimist to […]
Read More