How IoT is Reshaping the Restaurant and Hospitality Industries
Every industry the world over is feeling the effects of innovative IoT solutions, and the restaurant and hospitality sectors are certainly no exception.
On this episode of To the Edge and Beyond, brought to you by Intel's Internet of Things Group, host Mariya Zorotovich was joined by Orietta Verdugo, Global Hospitality and Restaurants General Manager for the Intel Internet of Things Group.
The duo dove into how Intel and its work in IoT are committing to elevate and personalize the guest experience in the restaurant and hospitality landscape, from drive-thrus to five-star overnight stays.
"There are two reasons why I really enjoy these two industries," Verdugo said. "One is the focus on the guest experience, and the other is regarding operations excellence. These two areas are quicky evolving as technology delivers improved data insights to inform service improvements."
Intel is working to help industry players achieve through tools and solutions that address unique pain points. This means translating business and customer drivers into tangible industry solutions in collaboration with the greater technology ecosystem. For example, business drivers such as efficiency, data security and customer drivers of seamless experience, contactless and personalized service translate into solutions that improve keyless entry, self-service markets, and loyalty to name a few.
The COVID-19 pandemic brought health and safety pain points to the forefront, with hospitality and food and beverage organizations needing to reconfigure their digital footprints and earn elevated trust in the face of consumer expectations.
The three biggest trends entering 2021, Verdugo said, are frictionless solutions, personalization and sustainability, and Intel's Internet of Things Group will be working to provide customers with thorough data and actionable insights and strategies designed to help them capitalize.
Learn more about how IoT is shaping the hospitality and restaurant industry by connecting with Orietta Verdugo on LinkedIn or visit https://www.intel.com/hospitality.
Latest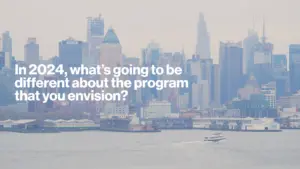 December 1, 2023
In the dynamic telecommunications landscape, Verizon's Partner Network continues to evolve, adapting to new trends and opportunities. For another segment featuring Mark Tina, VP of Indirect Channel Distribution and Channel Chief at Verizon Business Group, he explores exactly what types of significant changes and advancements the Verizon Partner Network will see in 2024. In this […]
Read More