The Impact of "As a Service" Models in the Pro AV Channel
In this episode of Pro AV Today, host Ben Thomas dives into an important conversation in the Pro AV channel: the influence of "As a Service" models. Joined by Wesco's Senior Vice President, Global Enterprise AV & UCC, Phil Langley, they discuss the implications of this model for various stakeholders in the Pro AV industry. If you're interested in the changing landscape of Pro AV, the adaptation of service models, or the future of integrated technology, you can't afford to miss this episode.
Discussion Topics:
The Rise of "As a Service" Models in Pro AV: The podcast begins with a discussion around the buzz phrase "AV as a service," delving into what it means for different people in the Pro AV industry and who's executing it well.
The End User Evolution: Reflecting on recent shifts, including adjustments brought by new business models, Phil explains how the Pro AV community is changing. The conversation reveals how end-users are driving the shift towards "As a Service" models, pointing towards the rising trend of consuming services on a subscription basis.
Understanding the Market Demand: Phil shares some insights from recent industry conversations, illuminating the market demand for such models in the Pro AV sector. He discusses the changing needs of decision makers and managers, especially those handling a global portfolio of services and overseeing OPEX budgets.
The Changes in Traditional Pro AV Processes: Highlighting how Wesco and Anixter have adapted their processes to offer 'Conference Room as a Service,' Phil talks about the evolution of their services. The conversation provides an in-depth look at how their manufacturing, buying, integration, and support processes have transformed.
—
If you're a Pro AV integrator, technology manufacturer, or simply someone interested in the future of Pro AV, the adaptation of service models, and the resultant changes, this episode offers valuable insights.
Latest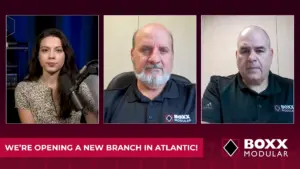 December 4, 2023
In an era where construction innovation is reshaping the industry, modular construction's growth continues to rise. In this episode of Built Modular, Boxx Modular's strategic expansion into Moncton, Atlantic Canada takes center stage. Host Gabrielle Bejarano welcomes Charles Landry and Ray Girouard to explore the implications of this venture. Bejarano, Landry, and Girouard discuss […]
Read More