Reimagining Retail with IKEA Digital Transformation & New Store Formats
In the swiftly evolving retail industry, the conversation around digital transformation and retail technologies is more urgent than ever. Amid this tech-driven revolution, IKEA is pioneering a remarkable journey. The stakes are high, as IKEA aims to shift from being primarily a physical retailer to incorporating a substantial omni-channel presence. As of 2016 only 2% of IKEA's business was omni-enabled, now in 2023 it has leaped to 23%.
The central question being answered here: How is IKEA digitally transforming its business model and store formats to adapt to evolving consumer needs?
On this episode of Retail Refined with Melissa Gonzalez, we bring you an insightful discussion with Parag Parekh, the Chief Digital & Technology Officer at Ingka Group, IKEA. The conversation navigates through IKEA's digital transformation journey, evolving store formats, and the adoption of emerging retail technologies.
Key takeaways from the discussion include:
IKEA is undergoing three primary transformations: transforming physical stores, enabling omni-channel experience, and providing additional services to enhance customers' life at home.
IKEA's physical transformation involves moving from big blue boxes on city outskirts to smaller formats within city centers.
The company is exploring immersive room technology in stores to enrich the customer experience.
Parag Parekh brings a wealth of experience in the field of digital transformation, currently leading IKEA's digital initiatives as the Chief Digital & Technology Officer of the INGKA group, which one of the largest retail companies in the world and operates a large number of IKEA stores. His work primarily revolves around driving the digital transformation for IKEA, focusing on everything from in-store Wi-Fi to e-commerce and back-office operations.
Latest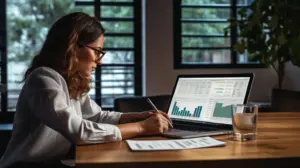 October 4, 2023
The intersection between security and financial acumen often gets overshadowed in a constantly changing economic landscape. While security is essential for safeguarding assets and ensuring continuity, its perceived monetary value is mired in misconceptions affecting company profitability. For many, security is viewed primarily as an expense rather than a potential cost-saver. However, understanding […]
Read More