The Fall of Bed Bath & Beyond Cements the Rise of a Competitive Social Media-Driven Retail Industry
As the digital landscape continues to evolve, the retail industry faces an increasingly complex set of challenges. Customer expectations, fueled by a diversity of shopping platforms such as Amazon, Shopify, and various social media networks, have raised the bar for retailers striving to provide a seamless customer experience. That digital landscape is continuing to encroach on companies, most recently Bed Bath & Beyond, that have failed to adapt to this new battlefield for customers' clicks and dollars.
Major retailers Bed Bath & Beyond, BuyBuy Baby, and Tuesday Morning are set to shutter nearly 1,000 stores this spring and summer, including 40 in Dallas-Fort Worth. This comes amidst bankruptcy filings and store closures from Bed Bath & Beyond and Tuesday Morning, highlighting the shifting dynamics in the retail landscape. However, a high demand for second-generation retail spaces is proving brick & mortar still plays an essential role in this digital-first or omnichannel retail reality. A diverse array of potential tenants for these shuttered big box retail spaces, ranging from fitness centers and indoor sports facilities to other retailers with still-strong brands like Macy's and The Container Store, are expected to fill these vacancies. Off-price chains like Burlington, Burkes Outlet, HomeGoods, Total Wine & More, and dollar stores like Five Below and Popshelf are also seen as potential occupants.
As Bed Bath & Beyond bids adieu to its significant brick and mortar footprint, what learning lessons can the retail industry takeaway from these shutterings to analyze the current state of omnichannel retail and the strategies that will lead to success? Kyle Wong, Chief Strategy Officer for Emplifi, a Fortune 500-trusted CX platform and strategy company, gives his postmortem analysis and the most important takeaways for retailers.
Kyle's Thoughts
"The Bed, Bath & Beyond news is unfortunate and it wasn't the first and it probably won't be the last we hear about how social media and digital are impacting retailers. I think there are three main takeaways as we think about how this will impact other retailers moving forward. First, competition is at an all-time high, whether it's from platforms like Amazon, different marketplaces, some of the social media networks themselves, or even emerging Shopify brands. The reality is all these different competitions have really increased customer expectations around customer experience and has really up-leveled what customers expect from their retailers.
Second, I think merchandising is more important than ever before, whether that is managing sell-through and ultimately your cash flow, or unique merchandising and proprietary merchandising that is unique to your platform. For example, if you can buy things from Bed, Bath & Beyond that you can just buy on any other platform, then ultimately there's not as much incentive to go back to those stores.
And last but not least, I think the same way that the Internet really disrupted one wave of retailers, I think that social media is going to probably disrupt this next wave. Not only are social media platforms really rolling out their different shopping capabilities, but also social media is a key platform where a lot of customers are going to find out more information. They're going there to ask questions in the DMs, they're going there to find out more information about store openings and closings, and it's becoming a more important platform for retailers to adapt to."
Latest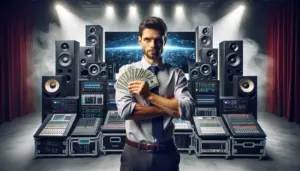 December 8, 2023
Mastering AV sales strategies in a global professional audio-visual (Pro AV) market, poised to reach $79.2 billion by 2028, requires much attention to detail. The surge in demand from corporate, government, and institutional sectors, driven by the need for enhanced productivity and efficient working environments, gives AV sales pros a lot of opportunity. In […]
Read More