Live Shopping Gets Shown the Door at Instagram
It wasn't so long ago that Instagram viewership was skyrocketing every quarter, and advertisers looked to the social media platform for live content monetization opportunities. Life's a bit different in 2023. User acquisition is plateauing for the app with only 15 million new users added between Q3 and Q4 2022 (previous quarterly increases since the start of the COVID pandemic ranged between 65 to 200 million new users), and Instagram's parent company, Meta, recently announced its third straight quarter of revenue loss. With losses come hard decisions and cost-cutting measures.
In a move indicating some of the shortfalls in social commerce, Instagram will discontinue its live shopping feature on March 16. This decision impacts only some livestreaming features, but it does mean creators, advertisers, and brands can no longer tag products to sell in their broadcasts.
On the positive side for Instagram, the app isn't alone; rival TikTok also needed help making social commerce work. In 2022 it shook up its approach with different shopping ad formats to simplify product discovery and browsing for its users.
Do these moves indicate social commerce is on the ropes and ready for a knockout punch? Not so fast says Kyle Wong, chief strategy officer for customer experience development company Emplifi.
Kyle's Thoughts
"There are three takeaways for the broader market on the news that Instagram is sunsetting its shopping capabilities. First, live is just a smaller part of the broader social commerce capabilities that Instagram Invests in. Instagram has various social capabilities for social commerce, ranging from tags via shops, ads, reels, and integrating user-generated content on product pages. These other features around social commerce have just seen a lot more pickup for that platform.
The second is that live is also not going away on other platforms. It's still very much alive and getting more focus on both TikTok and YouTube. And I think that part of that is because, in the broader scheme of social media, they're a little more on the media side, and therefore it's a little more natural to those platforms.
And then last but not least, I think live shopping will evolve for brands. Live is part of the shopping component, but over time, we'll see many more brands invest in live for a post-sales opportunity as well.
To give you an example, UK electronics retailer Currys [is] already tapping into live technology to serve their customers both pre- and post-care. And their average customer satisfaction for that is about 4.7 out of five. So, there is definitely an appetite for live interaction, it just might not happen on certain platforms, and it might not just happen in the way that occurred during the pandemic."
Article written by James Kent.
Latest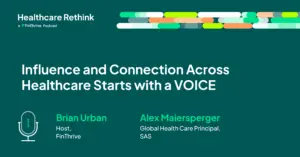 September 29, 2023
In the latest episode of the Healthcare Rethink podcast, presented by FinThrive, host Brian Urban sits down with Alex Maiersperger, the Global Principal Healthcare at SAS. Their conversation charts the role voice plays in influencing and connecting the healthcare industry. Maiersperger, who co-founded the Advancement League, shares his journey from being a healthcare optimist to […]
Read More