Brands Who Want to Understand Web 3.0

Web 3.0 is the talk of the digital world. Yet, as the metaverse, NFT trading, and
Web3 grows, so too, does confusion on its purpose and uses. So much so, in fact, that
a Harvard Business Review poll found nearly 70% of respondents did not know what
"Web3" meant. So, how do brands build digital understanding and figure out which
digital space is right for them?
In this episode of "What Just Happened?", host Christine Russo invites guest Diego
Borgo, Strategic Advisor, to chat about understanding the Metaverse and Web 3.0.
Borgo is adamant about knowing your audience – but not taking a big risk until market
and audience research is done. For this, experimentation is the key, says Borgo.
"Do you go to Times Square, buy the most expensive building and build up a
major flagship store there or you do pop-ups all over the world, see what resonates the
best with your audience and then you start building something bigger there," outlined
Borgo.
Borgo and Russo discuss…
• How to figure out who your audience is and why it's important to brand
development
• Why creating a safe space for learning about Web 3.0 and the Metaverse helps
shift community thought and understanding on the matter
• How Web3 is going to evolve and adapt along with the mainstream
"…The most important thing of Web 3.0 is the mindset shift. We're going through
a mindset shift right now that if Web 3.0 doesn't work, and Web 4.0 doesn't work, and
Web 5.0 doesn't work because of technical constraints, the mindset is going to remain,"
said Borgo.
As a Web3 ambassador and metaverse "native" Borgo advises Fortune 500
brands around the world on entering the metaverse, Web 3.0 and NFT space. He has
worked as a Strategic Advisor for companies such as LandVault, PorscheAG, and
Salesforce. Borgo earned his MBA from Fundação Armando Alvares Penteado.
Latest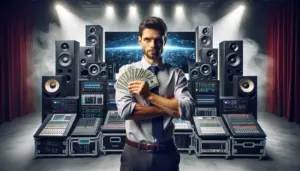 December 8, 2023
Mastering AV sales strategies in a global professional audio-visual (Pro AV) market, poised to reach $79.2 billion by 2028, requires much attention to detail. The surge in demand from corporate, government, and institutional sectors, driven by the need for enhanced productivity and efficient working environments, gives AV sales pros a lot of opportunity. In […]
Read More