Conversations from Shoptalk Europe: Retail Refined meets with Christoffer Sellin from COS
Shoptalk Europe 2023 brought the technologies and channels driving the future of retail into a clear perspective. This year's annual event from May 9-11 in Barcelona allowed Retail Refined's Melissa Gonzalez to sit down with key stakeholders making a difference in the market. COS (Collection of Style) is a European fashion brand doing innovative things in the space. Gonzalez spent some time with Christoffer Sellin, Managing Director, Europe for COS. Sellin shared insights into COS's strategy, including their use of technology to bridge the digital and physical store experience and their vision for an enhanced, seamless customer journey.
At the forefront of their innovation strategy is Smart Store, a technological concept that integrates digital and physical store experiences. Sellin explained how Smart Store has already rolled out in the US, including a COS Smart Store in Beverly Hills, and is on the verge of being implemented in their European stores.  This concept should fare well with consumers seeking more meaningful and holistic shopping experiences.
Equipped with RFID readers installed in ceilings, COS stores achieve full stock transparency, enhancing customer service and the overall experience. Sellin expressed his optimism for Smart Store, as it has the potential to offer detailed insights, from understanding customers' preferences to improving merchandising and design decisions based on data from in-store conversions.
During their Shoptalk Europe discussion, Gonzalez and Sellin cover the following:
Introduction of the SmartStore by COS Group
Data-Driven Decision Making and Personalization
Collaborative Rollout across Stakeholders
Reflecting on the US rollout, Sellin noted that "The Smart Store has been well-received by customers. Its most notable contribution is the confidence it instills in sales associates, leading to more meaningful interactions and improved sales figures."
A key aspect of Smart Store's influence is its impact on merchandising. With RFID readers installed even in fitting rooms, customers can instantly see their chosen items on smart mirrors or tablets in the fitting room. This feature, Sellin suggested, can drive additional sales and provide valuable insights about the difference between items tried on versus items sold.
About Christoffer:
Christoffer Sellin is an experienced Managing Director with solid results and a leadership track record from many years based in 6 different markets for the family-owned H&M group with a vast knowledge of the entire product flow with roles in Production, Buying, and Selling.
He holds a master's degree in international business from Jönköping International Business School with university studies at Harvard, The Indian Institute of Management, and Auckland University of Technology.
Latest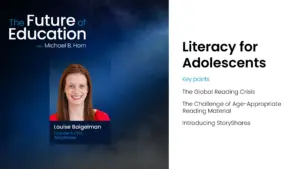 September 25, 2023
Literacy for adolescents in the United States needs to play catch up. Can online education help fill the gap? In recent years, the digital age has significantly shifted how education is delivered, especially in literacy. With the rise of online education, there's an increasing need to address the literacy crisis affecting adolescents worldwide. A […]
Read More