NRF 2023: The Top Trends & Technologies Shaping the Future Customer Experience
Retail was the main attraction at the Jacob K. Javits Convention Center in New York City on January 14-17, 2023. NRF 2023 was back in the Big Apple with a full slate of speakers, 100 sessions, and exhibitions from more than 950 major players in all facets of the retail space.
What were some of this year's most significant takeaways and moments from the weeklong event? MarketScale was at NRF 2023, with two of its contributors walking the floor and getting a chance to speak with retail thought leaders. James Prebil, retail lead at MarketScale and host of the Point of Scale Podcast, joined Melissa Gonzalez, principal at MG2, founder of The Lionesque Group and host of MarketScale's Retail Refined, to share their NRF experiences.
One thing Prebil and Gonzalez noticed at this year's show was the more prominent presence of the behind-the-scenes retail solutions providers, who are driving the technology innovations making a powerful and positive impact on the customer journey, whether online, in-store or a hybrid combination.
Some of the highlights from Prebil and Gonzalez's time at NRF 2023 include:
The rise of valuable data and AI to make retail technology more meaningful
Creating the holistic customer journey from first contact all the way to post-purchase
Putting the emphasis back onto the physical retailer
"It was an incredible show that featured exhibitors that were showcasing their innovation that is going to set the tone for the retail conversation in 2023," Prebil said. "And I think my biggest takeaway from the show is breaking through. It truly felt like this was a moment where the retail industry was breaking through, or turning the corner from the pandemic environment, from being reactionary, and then getting back into being proactive and driving innovation in all the respective retail spheres."
MarketScale's Voice of B2B, Daniel J. Litwin, presented moments with several retailers and solutions providers that Prebil and Gonzalez got to speak with during the show, including Honeywell, CrownTV, Hypervsn, Deep North, Volumental, Vecna Robotics, and Luxer One.
To see how NRF 2023 stacked up against last year's, MarketScale also has highlights from NRF 2022 available.
The National Retail Federation has represented retail for over a century. They represent the interests of an industry that is the nation's largest private-sector employer, contributing $3.9 trillion to the annual GDP. NRF 2024 will return to the Jacob K Javits Convention Center on January 14-16, 2024. Sign up for updates and registration info here.
Latest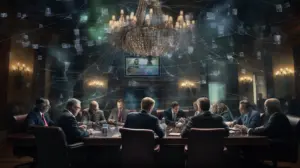 October 3, 2023
In August 2023, the National Institute of Standards of Technology (NIST) put out a request for comments on the Preliminary Update from the Internet of Things Federal Working Group (IoTFWG), which aims to provide the nation direction on how to improve IoT adoption and expand its use cases for the future of industrial, corporate, […]
Read More