Hitting Your Consumer Through Linear and CTV

Today's technology provides many options for those wanting to reach audiences
through TV. Linear TV is no longer the only option; CTV, or connected television,
continues to spread as more and more consumers cut the cord of traditional linear
options and move to internet streaming content. Estimates indicate the bulk of television
viewership will move to digital by 2024.
No matter the channel, there is much potential to reach consumers through linear and
CTV. Whether selling a product on demand, creating brand awareness, or driving retail,
TV is the best way to get the most eyeballs for the smallest amount of money to drive
retail foot traffic.
Christine Russo of What Just Happened? is always on the hunt for the latest insights
and trends in retail. To get the scoop on the exciting happenings in linear and CTV, she
connected with Stacy Durand, CEO of Media Design Group. MDG specializes in
utilizing Smart Media to bring the precision of digital advertising with the reach of TV to
grow the next generation of audience activation.
Stacy Durand plays a central role in redefining and shaping the future of media buying
and performance video advertising through her leadership with Smart Media
Technologies. Durand leverages deep expertise in every facet of the DTC industry and
has managed billions of dollars in television budgets, helping clients drive tens of
billions in revenue.
Durand and Russo discuss:
• Why retailers should consider looking at linear and CTV media opportunities
• Understanding the dynamics within performance video
• The affordability of TV advertising and analytics available to track results
"Most of our clients are D2C," Durand said. "We've gotten more non-D2C clients since
the pandemic. Part of the reason for that is they wanted flexibility. There are quite a few
companies that were stuck in their advertising budgets. Things were closed during the
pandemic, yet they had advertising commitments. We offer flexibility. We buy a lot of
time on connected TV, OTT devices, and linear. But we can get a very low rate, yet
cancel and move budgets around."
"Connected TV, streaming TV, is data-driven," Durand said. "Linear is efficiency. They
work together well, and they inform each other really well. In CTV, we can load in our
audience segments, and the ad is served to folks in our audience."
Latest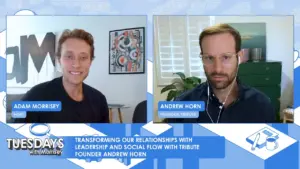 November 28, 2023
Can relationships be transformed through leadership and social flow? Navigating the intricate web of digital relationships can be a tricky proposition. Tuesdays with Morrisey's Adam Morrisey uncovers the transformative impact of emotional recognition in the workplace with Andrew Horn, the mastermind behind Tribute. This podcast edition unravels the story of a platform redefining how […]
Read More