How Brands Can Drive Action on Social Media
Jennifer Kaylo Ruscin guides retailers to be the hero and navigate the industry's biggest B2B challenges online and offline.
Did you know that Pinterest is more than just pins and aspiration content? It can drive website traffic and sales with the right approach. Bricks and Clicks is tackling everything Pinterest as host Jennifer Kaylo Ruscin welcomes expert Jennifer Priest, owner of Smart Creative Social and Smart Fun DIY.
The two talked about what Pinterest is and how to leverage it. Priest started out on Pinterest as a social media manager for arts and crafts brands. She described Pinterest as "if Google and Instagram had a baby."
A few years later, she started to figure out Pinterest traffic. "It's a different approach than other platforms. It's designed to send users to websites, unlike others," Priest said.
She also clarified that Pinterest isn't just for women, citing that men are the greatest growing sector of users.
In her years of experience, she talked about the mistakes brands make. "Aspiration content doesn't get people to take action. It doesn't translate to sales. It's an entry point of the funnel, and you need problem-solution content to get clicks," Priest explained.
Priest urges brands always to ask, what problem does the product solve for customers?
In discussing how companies can use Pinterest to increase sales, she had three main tips. First, start playing around, pinning, and experimenting. Second, users should invest in a learning program to become an expert. Third, create a strategy, implement it, and refine it.

Latest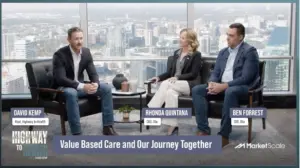 December 7, 2023
As of recent times, the healthcare industry has been progressively shifting towards value-based care, a model that emphasizes patient outcomes over the quantity of services delivered. This transition represents a significant shift that promises to enhance patient experiences and outcomes while controlling healthcare costs. With a growing emphasis on this approach, especially over the […]
Read More