Reshaping Black Friday
Jennifer Kaylo Ruscin guides retailers to be the hero and navigate the industry's biggest B2B challenges online and offline.
COVID-19 continues to reshape how people shop, and in turn, it's sure to reshape traditions this holiday season.
Let's Talk Thanksgiving and Holiday Celebrations
According to Butterball, the number of consumers who plan to host extended family and friends for Thanksgiving has dropped from 30% during a typical year to 26% this year while those who plan to celebrate only with immediate family has risen from 21% in a typical year, to 31%.
With more customers planning for smaller groups, we anticipate a higher preference for smaller turkeys.
Walmart increased their assortment of bone-in and boneless turkey breasts by 20-30% in stores across the country.
We also learned a lot from our customers this past Easter. To avoid crowds, shoppers stocked up earlier than ever. That's going to continue this holiday season. It's no longer about catering to a single peak the weekend before Thanksgiving. This year, Walmart customers can take advantage of everyday low prices on a range of turkeys beginning earlier in the season on November 2.
Following Easter, ham sales continued to peak even into summer as people were inspired to cook differently at home. We expect that trend to continue right into Thanksgiving dinner. Ham will be in the spotlight and we've increased our inventory accordingly.
Now, on to Black Friday
This year we've seen big sales happen earlier than ever. Some mass retailers hosted multiple killer savings events (hello Walmart, Target and Amazon!).
Retailers offered shoppers multiple options for purchasing, with a high emphasis being online.
This past week I noticed that Bath and Body Works had a really great deal on single wick candles, but it was an in store event only.
With covid number soaring in my area, Bath and Body Works lost my sale because of their lack of offering the deals online. If they would have offered these same sale online, I would have bought $100+ worth of candles and either stocked up for next year, OR just purchased more for holiday gifts.
As you consider the next major holiday sales events planned for your company, do your best to be inclusive to how everyone wants to shop. You're leaving sales on the table and shoppers feeling unimportant when you try to force shoppers to come into your store.
Get creative and be sure you're offering a ton of different purchasing options. While this might require more work or hiring on your part, it will increase sales because you're going above and beyond to be exactly where the shopper wants to shop.
Some ideas on ways to offer shopping to all:
In store
Website
Amazon
Target
Instagram
Facebook
DM's on Facebook and Instagram
Taking phone call orders
Latest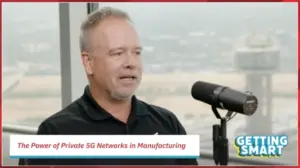 September 25, 2023
The Convergence of 5G and Automation in Manufacturing: A New Industrial Revolution The manufacturing industry stands at an inflection point. Advances in 5G technology and automation are coming together to transform the way products are made, and the role that humans and machines play in this process. Per Treven, Director of Business Development at Ericsson, […]
Read More