Tailoring the AR Experience
With a need for retail that is less reliant on touch, creating immersive ways to test products has become stable stakes.
Memomi sits at the forefront of augmented reality and transforming the in-store and online experience by enabling customers to try products virtually and get personalized recommendations based on profile, style and preference. From skincare and make-up to eyewear and scarves, here how they are thinking about the possibilities of testing and sampling.
About the Guest
Salvador Nissi is the Founder and CEO of Memomi, the creator and patent holder of the Memory Mirror, an award-winning Digital Mirror platform that is revolutionizing the way people shop today. He is a serial entrepreneur and interaction design expert. Prior to founding Memomi, Salvador founded and exited three successful network systems integration companies. A recognized leader in experience-based design, Salvador has 15 years of international, executive-level management experience, specializing in rapid product developments and is an inventor holding 74 patents and can always be found at the crossroads of innovation.
With Memomi, customers can virtually "try on" products such as clothing, eye-wear, make-up,hair color, footwear and accessories in real time without any of the inconveniences of the actual try-on experience. On any device and operating system, through artificial intelligence, Deep Learning and augmented reality. Moreover, there is an added benefit of capturing try-on sessions that can be reviewed and shared later on. Among Memomi's clients are world renowned companies, such as LVMH Group, L'Oreal Group, Estee Lauder Group , Neiman Marcus, Luxottica, and many more.
What Melissa Asked
Tell us how Memomi works?
Why do you think AR has proven to be intuitive for the beauty industry?
How has COVID accelerated the adoption and need for technology like Memomi?
How does your data capture help advance personalization?
What is your vision for taking AR and retail to the next level as we see consumer behaviors quickly evolving?
Who are some of your customers and what has been the formula for successful proof cases?
Latest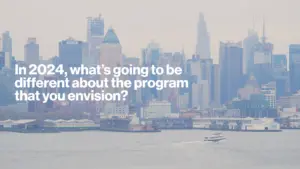 December 1, 2023
In the dynamic telecommunications landscape, Verizon's Partner Network continues to evolve, adapting to new trends and opportunities. For another segment featuring Mark Tina, VP of Indirect Channel Distribution and Channel Chief at Verizon Business Group, he explores exactly what types of significant changes and advancements the Verizon Partner Network will see in 2024. In this […]
Read More