The Big Retail Winners & Losers From the 2022 Thanksgiving Weekend
The 2022 Thanksgiving weekend holiday shopping saga continues to have resounding consequences across retail, proving to be a winning weekend for in-store and ecommerce sales. But did everyone win in the same fashion?
According to new data out of Adobe Analytics, online sales on Black Friday and Cyber Monday in 2022 set new records, with total online sales reaching $9.12 billion on Black Friday and $11.3 billion on Cyber Monday. This represents a 2.3% increase in sales on Black Friday compared to the previous year and an 11% increase in total retail sales. The increase in online sales can be attributed to the continued growth of ecommerce and the consequences of the COVID-19 pandemic, which led to more consumers embracing omnichannel retail for ecommerce purchases but also flocking back to stores in a return-to-form.
If we dig deeper into the numbers, though, who were the big winners and losers from the 2022 Thanksgiving weekend? MarketScale's host of "Point of Scale," James Prebil, breaks down the top dogs from the 2022 thanksgiving weekend, from retailers, to technologies, to sales channels.
James' Thoughts
"In terms of specific winners and losers when it comes to retailers I think that Walmart is very happy with their Black Friday performance, not just from a revenue standpoint, but also in the fact of their e-com performance out doing major rival amazon. According to a CNBC report, Walmart led all retailers in e-com searches.
They saw a 386% spike over last year in terms of people searching Walmart.com for Black Friday deals, beating out Amazon, and while their foot traffic was down slightly by 5.6% year over year in comparison to 2021, I think you are over the moon if you're Walmart by outperforming Amazon in terms of e-com performance. The other big winner that I think is being talked about less are direct-to-consumer brands with the movement of consumers pushing their holiday spending into the e-com environment.
We're seeing that those direct-to-consumer boutique brands can differentiate and compete with the retail giants in an e-com atmosphere. As far as losers go it's not a hot take, but obviously, the pain points that Target has been feeling from an inventory standpoint continue to haunt them in a Black Friday environment.
And I think the big takeaway there from a larger point of view is that it wasn't anything hyper- innovative or new to the market that parceled out the winners and losers over this holiday spending period, so far. It's really retail basics, the blocking and tackling of retail that is making the winners and the losers here.
Having inventory and having it available for your consumers is a big bet that Walmart made. They had a lot of inventory on their books and they were rewarded because they were able to sell that inventory to their consumers. Whereas Target had empty shelves and lacked basket building items in their stores for the shoppers that did go to Target over Black Friday.
So those are the big takeaways there was that it was not some magic or silver bullet that differentiated the winners, but really tried and true retailing strategies."
Latest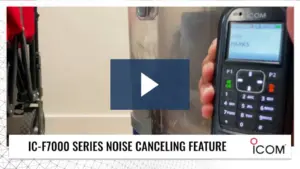 September 27, 2023
In this brief product demonstration video, ICom's IC-F7000 Series receives a mic test of its noise-canceling feature. Through the two demonstrations it is clear the IC-F7000 removes loud ambient noise for clear two-way communication.
Read More