Walking NRF with Melissa Gonzalez and Nicole Leinbach Reyhle
For three short days this week the entire retail world congregated in one place, New York City's Javits Center, for NRF 2019. With tens-of-thousands of visitors and a maze of exhibits to check out, this conference had much more to take in than could be achieved in such a short period of time.
MarketScale called upon two of the industry's most prominent thought leaders to give us a tour of the floor so we could walk away with the most important insight from Retail's Big Show.
Melissa Gonzalez, CEO and Founder of The Lionesque Group, and Nicole Leinbach Reyhle, Founder of Retail Minded gave us an all-access look at this year's event. The two told us what their favorite exhibits were, what trends became evident and what their favorite emerging technologies were.
"Everything is an experience, and experience is everything," Nicole said in summation of what NRF 2019 attendees and retail professionals should take away from this year's expo.
Experience can mean a number of different things to retailers and Melissa was particularly enthusiastic about digital signage. Where most people associate LED boards with large displays one might see in nearby Times Square, what she noticed at the show was the use of smaller, more personal screens.
"It's actually the smaller format that's seeing a lot of growth," she said.
Frictionless payment was another area where the pair noticed innovation and pointed to it specifically in a sector not known for pushing the boundaries of technological implementation.
"Frictionless payment is such a big conversation in retail right now and it's happening across a lot of channels, but definitely in the grocery channel, there's a lot going on in this space," Nicole noted.
With three floors full of products and displays, there was plenty to talk about, so come explore NRF 2019 through the eyes of Melissa and Nicole!
For the latest news, videos, and podcasts in the Retail Industry, be sure to subscribe to our industry publication.
Follow us on social media for the latest updates in B2B!
Twitter – @RetailMKSL
Facebook – facebook.com/marketscale
LinkedIn – linkedin.com/company/marketscale
Latest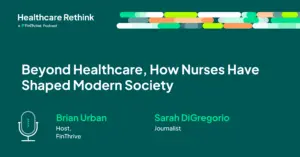 December 4, 2023
Nurses Have Shaped Modern Society beyond healthcare to stand as pivotal figures that transcend their traditional roles, influencing the broader spectrum of societal change. Healthcare Rethink, a FinThrive podcast hosted by Brian Urban, welcomes Sarah DiGregorio, Journalist, Author, and Speake,r to discuss her second book, "Taking Care: The Story of Nursing and Its Power […]
Read More