When Foot Traffic Came To A Crawl, PacSun Turned to Predictive Analytics
A splendid new retail partnership emerged during the pandemic with Pacsun's partnership with Antuit.ai. This marriage of retail and AI-driven SaaS solutions will help double Pacsun's ship completes through predictive online ordering analytics tied to leveraging stores and online fulfillment centers. Michael Relich, Co-CEO of PacSun, and Yogesh Kulkarni, Co-CEO and Head of Customer Success for Antuit.ai, spoke with Gabrielle Bejarano on this exciting development.
"During the pandemic, our online sales grew substantially," Relich said. "And you look what's happening with the pure plays like Revolve and other pure-play brands, they're growing, and they use analytics. They know who their customers are and are kind of at an advantage. So being a brick & mortar and hybrid dealer is something that we have to do to remain competitive."
And when foot traffic slowed in stores due to the pandemic, Pacsun wanted to utilize that store inventory to fulfill those online order demands. But easier said than done. Doing it the wrong way could quickly erode profitability. They needed a partner who could help alleviate these inventory challenges to maximize efficiency. Enter Antuit.ai.
Kulkarni said the Gen Z shopper comes with high expectations and expects promises fulfilled online. "If they order a product, they want the product to be available; they want their size to be available. They want it available when they want it for the occasion they want to wear it. That sounds easy, but operationally it is very difficult, which means you have to anticipate demand, know where the demand is coming from, and place the product in the right location to fulfill that demand. You should be able to activate your stores to get that product in a reasonable amount of time to the customers." All this orchestration and intelligence is what Antuit.ai supplies. 
More Stories Like This
Latest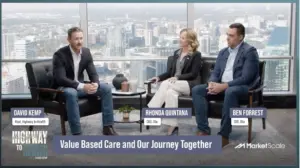 December 7, 2023
As of recent times, the healthcare industry has been progressively shifting towards value-based care, a model that emphasizes patient outcomes over the quantity of services delivered. This transition represents a significant shift that promises to enhance patient experiences and outcomes while controlling healthcare costs. With a growing emphasis on this approach, especially over the […]
Read More