Meta's Threads App Launch Made Frustrated Users Flee. Its Privacy Practices Could Steer More Away.
Within this fast-paced and evolving world of social media, the launch of Meta's Threads app was seen as a potential game-changer. Its inception promised a new platform that could challenge the dominance of stalwarts like Twitter, given its seamless integration with Instagram and Meta's extremely vast user base. However, the rapid initial adoption has gradually given way to user frustrations, declining engagement, and lingering questions Meta's users have raised in the past.
As Meta's Threads app grapples with these challenges, Twitter's global presence, extensive network, and unique engagement opportunities continue to affirm its relevance. Regardless of the future trajectory of Threads and its impact on Twitter, the arena of social media remains a dynamic, intriguing battleground of platforms vying for user attention. 
Kelli Burns, a Public Relations Professor at the University of South Florida, had some keen insights and expertise to share on this unfolding story. She added that user concerns about privacy have always been a priority regarding Meta and its practices. Burns further stated that as people develop an interest in Threads, they should also consider data usage and content management that comes along with it and whether it's up to their standards. 
Burns' Thoughts on Meta's Threads
"Over 100 million people jumped on the Threads bandwagon the first week of its launch, making it the fastest app-to-adoption in history. But since then, excitement about Threads has been waning. People are spending less time on the site, and they're also less engaged on the site. A lot of people jumped on it to try it out as maybe an alternative to Twitter. Meta made it very easy to move your information right over from Instagram onto Threads. You had your followers list already there as well, and you could connect with people that you're connected with on Instagram on Threads. Now, some frustrations with the site are that the posts are not in chronological order, and also that you are presented with a lot of content by people that you don't follow. It's just content that Threads thinks that you should or would be interested in. 
"For people who wanted to get away from Elon Musk, well, you're jumping right into the arms of Mark Zuckerberg and a company that hasn't always taken privacy as a serious concern. So you do have to question what they are doing with your data, and there are some significant concerns around the use of Threads. So will Twitter die? You know, there are a lot of people who say that Twitter might be gone, that Twitter should have already been gone. But people are still there. 
"There were a lot of advertisers that fled the site in the beginning, and that has somewhat stabilized. The thing about Twitter is that it's global, and Threads is not a global platform at this point. Also, you already maybe have a very wide network on Twitter. And also the nice thing about Twitter is you may be connected with people that you're not connected with on Instagram, and that's what makes Twitter such an interesting platform. So, good luck to all of you who have chosen to try out Threads, abandon Twitter, keep Twitter, abandon Threads. You know, whatever you do, just keep having fun with these platforms, and good luck to you."
Kelli Burns is a leading authority in public relations and digital media, currently serving as a professor at the University of South Florida. Her research and teaching encompass social media strategies, online behavior, and consumer engagement. Recognized as an industry thought leader, Burns brings a wealth of knowledge and insight to this nuanced discussion.
Latest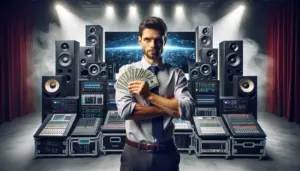 December 8, 2023
Mastering AV sales strategies in a global professional audio-visual (Pro AV) market, poised to reach $79.2 billion by 2028, requires much attention to detail. The surge in demand from corporate, government, and institutional sectors, driven by the need for enhanced productivity and efficient working environments, gives AV sales pros a lot of opportunity. In […]
Read More