Jenifer Welter Shares How NFL Players Responded to Relationship Based Coaching
For many, being first is an accomplishment. It is an accolade to boast about to friends, family, colleagues. To Dr. Jenifer Welter, it means something entirely different. Dr. Jenifer Welter, the first female NFL coach, sits down to talk with Game Changers Host Katie Steinberg about her experience as a trailblazer in the NFL.
Dr. Welter began by talking about the importance of conceptualizing the possibility of something happening before it happens, perhaps even creating this possibility in a virtual space, if not yet a reality. As a trailblazer in female empowerment, Dr. Welter emphasized the loneliness of the accomplishment, "First inherently means only."
While it may be a lonely path, Dr. Welter talked about the importance of doing a good enough job to "be sure you're not the last." There's a lot of attention and increased speculation about you as a first, especially as the first female in NFL coaching. Dr. Welter emphasized thinking about the narrative of the situation, "Keep your head down and your vision strong," and don't let them break you.
Although there may have been more focus on Dr. Welter because she is female, she also has a more unique approach to coaching than traditional styles. Her mindset is to build the relationship with the player, and in doing so, the player and coach will have a better and more positive relationship value.
Dr. Welter said, "Most guys have been coached by women their whole lives," whether they realize it or not, and to employ this Dr. Welter said it's her goal to, "Refresh the narrative on what is tradition and what is effective."
Dr. Welter doesn't yell. She guides and supports. She encourages and helps. What resonates with her and with her athletes is "authenticity." Change is always coming, what's important is to understand that "courage can be contagious" and changing situations for the better.
Latest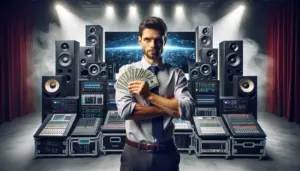 December 8, 2023
Mastering AV sales strategies in a global professional audio-visual (Pro AV) market, poised to reach $79.2 billion by 2028, requires much attention to detail. The surge in demand from corporate, government, and institutional sectors, driven by the need for enhanced productivity and efficient working environments, gives AV sales pros a lot of opportunity. In […]
Read More