Netflix & Microsoft Ad Partnership Will Be a 'Windfall' For Advertisers. Here's Why.
Earlier this year during Netflix's Q1 2022 post-earnings call, CEO Reed Hastings changed his tune around advertising on the streaming service. Once a key selling point as an on-demand ad-free way to watch content, the CEO teased that, due to losses in subscribers and plateauing revenue streams, Netflix would consider a cheaper advertising tier.
"As much as I'm a fan of [the simplicity of subscription], I'm a bigger fan of consumer choice. And allowing consumers who like to have a lower price, and are advertising tolerant, get what they want makes a lot of sense," Hastings said on the earnings call.
Now, that lower price for the advertising-tolerant viewer is one step closer to reality and the company's targeted launch date of 2023. An advertising tier is coming in the form of a partnership with one of the tech industry's legacy leaders: Microsoft.
Netflix announced in mid-July that it'll be working with Microsoft to help launch its advertising business, bringing on the tech company as its global advertising technology and sales partner. Netflix's vision is to appeal to a wider demographic of consumers, but perhaps more importantly is to create a "premium, better-than-linear TV brand experience for advertisers" it said in its official press release. The company is well-positioned, with its data pools and experimentation with content-diverse business models, to make this a reality.
"The opportunity for advertisers with streaming content is that it provides a new way to stand out," said Darren Campo, SVP of programming and content strategy at the Food Network and adjunct professor at the NYU Stern School of Business.
"Streaming content is premium content, it's content that hasn't been associated with advertising before in a lot of cases, especially with original content. So if [advertisers] treat it like it's the Super Bowl and they make high quality content that engages the viewer, it can be a tremendous opportunity."
Why Netflix Chose Microsoft Over In-House AdTech
This effort to generate a new stream of ad-supported revenue may have been inspired by Q1's dip in subscriber numbers, but it was further validated by Q2's earnings report, which revealed another quarter of subscribership losses. While it was a smaller hemorrhage than Netflix forecasted back in April, it was still a significant net loss of 970,000 subscribers globally, more than it lost the previous quarter. The majority of these losses came from the UCAN market with a whopping 1.3 million subscribers cancelling their memberships. Recapturing lost subscribers and appealing to untapped customers is now the company's top goal. This includes users that are mooching off their roommate's password, or more eloquently put by the company, "the 100m+ households that are currently enjoying, but not directly paying for, Netflix."
"In the near term, a key priority to re-accelerate revenue growth is to evolve and improve our monetization," the company said in its Q2 2022 shareholder letter.
Streaming's adoption of ad-ridden viewing may be new for Netflix, but industry players aren't all that surprised by the news, especially considering Disney beat Netflix to the punch with its own ad-supported tier announcement and earlier targeted launch date, along with the fact that Hulu has sported an advertising tier for years now.
"The whole industry knew this was coming, investors knew this was eventually coming, but the company seems to have been caught unaware," said Joanna Massey, former SVP at Lionsgate and Discovery Inc. and current corporate director and management consultant at JDMA Inc.
To some degree, Netflix is now playing catch-up and looking to reverse a trend of stagnation as streaming's dominant subscriber leader. This trend is one that industry experts like Massey said should have been obvious from a mile away; Netflix grew its platform exponentially during the pandemic but now have found that the pandemic's pace of growth was almost impossible to keep consistent, hitting a ceiling of close to 222 million subscribers.
"It's the fiduciary duty of the board and of the officers of the company to recognize that at some point, they were going to hit a fiscal cliff. At some point, they were going to run out of subscribers and start losing," Massey said.
To combat being labeled as both an empire in decline and behind on the advertising front, Netflix chose to invest in a third-party partner rather than build out its advertising technology stack in-house. Though there is an appeal to the long-term benefits of developing an in-house advertising team, and potentially a new revenue stream by monetizing internal adtech, the timeline for development was likely too long to justify that kind of investment considering Netflix's tardy entrance to the advertising game. Plus, the weight of understanding and developing a new form of media technology would have put Netflix far out of its comfort zone.
"They've made a pledge to stop the bleeding by Q4. You cannot build that technology in-house, you can't staff up with ad sales executives fast enough, you can't build the relationships with advertisers fast enough to get that problem fixed within the next few months. They absolutely have to go to a third-party vendor," Massey said.
"It's a completely different capability. It's one workflow to publish video for subscribers in which you publish videos, people watch videos and you have a billing relationship. It's a totally different technology when you have to start building and inserting ads. And so it's another layer of technology complexity," said Keith Zubchevich, President and CEO of streaming intelligence cloud company Conviva.
Netflix needed to move quickly if it wanted to reverse its trending decline and immediately plant its flag as a competent advertising media giant. For this reason, bringing on a third party "wasn't really a surprise" either for industry experts, said Campo. What was somewhat of a surprise was the choice to go with Microsoft over other players in the space like Google or FreeWheel. Upon closer inspection, though, a Netflix-Microsoft partnership makes a lot of sense and, upon launch, positions Netflix to almost immediately be one of the most cutting-edge players in the advertising space.
"When you look at the technology that Microsoft has at its disposal to make a marketplace, and when you look at the kind of information Netflix has been able to collect for really 20 years…. When all the traditional media companies were licensing their product to Netflix, Netflix was collecting data before any of them were, so they have the most deep trove of data," Campo said.
"And Microsoft, potentially in this situation, without other media partners ahead of them will put Netflix first in its media landscape."
Netflix also needed to immediately build a trusted infrastructure to pitch to advertisers who are used to working with tried-and-true ad space sellers. If Netflix can't properly validate that the data it's offering to advertisers is accurate and as much of an opportunity as it's poised to be, then it will flounder as an ad seller. This was more motivation for Netflix to work with Microsoft and enact a separation of church and state between its subscription business and its advertising business.
"Advertisers are going to want to spend money, and they're not going to trust you to grade your own homework," Zubchevich said. "[Netflix has] been able to stay as a walled garden and not have any third parties come into their technology stack or their business. But now that they're going outside for money, for advertiser dollars, those dollars are going to need to be validated and verified."
Netflix-Microsoft Partnership Will Set a New Value Standard for Advertisers
With a new, cheaper choice for consumers, Netflix hopes to leverage its strong global presence to gain users that wouldn't want to pay for its premium or even standard subscription. Compared to the years of experience that legacy linear content providers and even the likes of Hulu have under their belt, Netflix is fighting an uphill battle to gain advertising dominance.
Netflix's late entrance to advertising, though, can also be leveraged as a strength. While traditional TV ad models have persisted for years, they have limitations that hold them back from maintaining dominance as the industry standard as advertising ROI evolves. The ability to target to niche demographics is limited, the structure and placement of ads is rigid, the cost is often inflated, and the metrics for validating said cost create friction between the ad buyer and seller.
"I anticipate streaming advertising is going to be a big windfall and a big benefit for advertisers as people start to become more familiar with what's available from targetable digital inventory and the amount of data that the advertisers can now buy up," Zubchevich said.
Consider the traditional linear television network has 1,000 hours or so of ad space to sell to advertisers, Campo explained. A lack of niche targeting and a standard timeline that forces the early buying of ad space creates more opportunities for advertisers to end up paying for more than they get back in viewership.
"That advertising gets sold during the upfront and some of it gets held back, and if it doesn't meet the view requirements that it assured its advertising partners, then it has to do make-goods and it has to do more units and add more to advertising," Campo said.
While users increasingly seek personalized media experiences and find value in ad messaging that actually reflects their current consumption needs and wants, linear television advertising is having a harder time validating its utility. Netflix, in building its own ad strategy with Microsoft, isn't shackled by these legacy factors.
"If you are a new player [in the advertising industry], you can immediately control your ad inventory, you can do much shorter ads, more ads in context and more ads that are less obtrusive and work with the content," said Campo. "For a company like Netflix, that has always put the viewer first, this should result in a really much better experience in the ad-supported universe."
On top of leveraging cracks in the linear model's armor, experts think Netflix has a few aces up its sleeve. Said aces have the potential strength to radically shift where advertisers spend their dollars and how they gauge successful campaigns.
"They are starting late [with advertising] but there will be an accelerated path and climb to the top, so I'm actually very optimistic about what kind of advertising business Netflix can do," Zubchevich said.
Firstly, the company is leveraging massive amounts of proprietary user data from not only their highly-popular original content, but from content from other production studios, giving Netflix a wide and deep view of user viewing habits and trends. Netflix is able to pull from over 200 million global active users who spend the majority of their subscription-based OTT video time on Netflix (even if that share is increasingly shrinking). This means it will be able to offer advertisers gender, ethnicity, age, region, genre, and media-type data at a level no other streamer can match.
"The pure size and scope of Netflix's platform, their reach, is a must-buy for Madison Avenue," Massey said.
Secondly, publishers' shift to streaming created a much more efficient business model for creating, delivering, and scaling content. By offering consumers on-demand personalized content powered by algorithmic recommendations, it let platforms like Netflix connect with their viewers more intelligently and tailor content that matched individual viewers' tastes and habits. That kind of data feeds back to Netflix to help green-light the most popular original series, make smarter negotiations with external production studios, and inform where to spend marketing dollars.
A more engaged viewer has traditionally meant a more loyal customer for Netflix, at least until its subscriber numbers started to dip at the start of the year (though several factors can explain this dip beyond a disinterested viewer, like Netflix's exit from the Russian streaming market). Regardless, this benefit of executing on an intelligent, data-supported media business model is now being extended to advertisers on the world's leading streaming platform. That means advertising dollars can be spent "much smarter and much more targeted versus buying massive scale TV audience in which you know the majority of the viewing audience isn't who you want to get," Zubchevich said.
"The one-to-one relationship streaming presents with a viewer not only gives publishers the smarter data driven business, it actually will result in advertisers being able to operate on a much more fine-grained data driven business as well," Zubchevich said.
And finally, just as important in this equation is Netflix's new third-party ad team. Advertisers should be seeing dollar signs with Microsoft as Netflix's adtech partner. Microsoft has over 25 years of strategic advertising experience, but became an even more viable player in programmatic advertising when it purchased top ad company Xandr from AT&T. Xandr is one of the foremost legacy SSP ad exchanges, existing formerly as AppNexus since 2007.
Besides its combined 40 years of adtech and strategy experience, Microsoft also has powerful AI business tools that will be tailored for a Netflix partnership, making it simpler to sell ad space in bulk by leveraging Netflix's user data treasure trove.
"It's going to allow them to get more ads in more quickly," Massey said.
AI-supported ad placement won't be as applicable for the massive events that draw unrivaled advertising spend like awards shows and major sporting events, all of which still rely on intense negotiations between an ad salesperson and an advertising agency. Competing with legacy players in one-on-one negotiation processes, which are influenced by years of rapport amongst the negotiators, will be a challenge for Netflix to overcome.
"Netflix still needs to develop those relationships, but Microsoft is going to do that for them," Massey said.
Netflix's Microsoft-powered ad tier is expected to make it to the market by early 2023, though a specific date has yet to be announced. In its Q2 letter to shareholders, the company shared its reasoning for feeling optimistic about the potential success of this partnership:
"[Microsoft is] investing heavily to expand their multi-billion advertising business into premium television video, and we are thrilled to be working with such a strong global partner. We're excited by the opportunity given the combination of our very engaged audience and high quality content, which we think will attract premium CPMs from brand advertisers."
Latest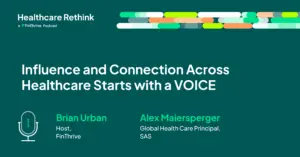 September 29, 2023
In the latest episode of the Healthcare Rethink podcast, presented by FinThrive, host Brian Urban sits down with Alex Maiersperger, the Global Principal Healthcare at SAS. Their conversation charts the role voice plays in influencing and connecting the healthcare industry. Maiersperger, who co-founded the Advancement League, shares his journey from being a healthcare optimist to […]
Read More