Building Thankfulness into the Sales Process
Greg Crumpton lives by a simple mantra: Relationships drive business. Each week on Straight Outta Crumpton, Crumpton dives into the lost art of networking and speaks with the biggest influencers in business services to learn how they build, nurture and value their professional relationships.
What's the most critical aspect for sales professionals in building relationships? Simply put, it's trust. No matter what a company sells, it won't go very far, being purely product- or feature-focused. Instead, it's the relationships that matter and how those in sales roles approach the work. To talk about trust and her journey as a sales professional, Courtney Fallon, Account Executive for AirTight FaciliTech, joined the podcast.
There have been several aspects of Fallon's life that prepared her to be an accomplished salesperson. First, she was an athlete, rowing crew at the collegiate level at Clemson. Second, she's a life-long learner.
"What being an athlete taught me and has carried over to my career is even though opportunities may be scary, they are always present. If you challenge yourself, you can succeed because opportunities are endless," she said.
The second aspect of her success is her passion for learning. "I started with AirTight in an inside role to learn everything about the industry. This experience showed me the importance of facility operations, and that knowledge helps me build relationships," Fallon commented.
The key to building relationships is trust. "I'm not selling a tangible product, so customers have to trust that I know their needs and the industry. I then have to trust the internal teams and how they'll carry the ball after the sale," she commented.
Trust building isn't all about what she has to say. Fallon said, "I'm getting to know the person and the needs of the facility in the first meeting. I have to dive and ask questions to understand their biggest issues."
Her ability to develop trusting bonds is integral in a male-dominated industry. In the end, she said, "I'm fine being the only female on my team. It just makes me work harder to build trust with customers, and I do that by listening to them and knowing the ins and outs of the HVAC world."

Latest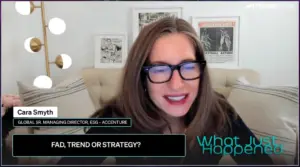 November 30, 2023
The world is in an era where sustainability and responsible retail business practices are increasingly crucial. For the latest episode of "What Just Happened," host Christine Russo further explored the hows and whys of this pressing issue by interviewing Cara Smyth, Global Senior Managing Director for ESG and Responsible Retail at Accenture, and Chair […]
Read More