Are Dark Kitchens Taking Over the Restaurant Industry?
Food delivery, backed by innovative technology, is increasingly expanding and creating a new market: dark kitchens. Changing consumer demands along with the rising costs of operating a restaurant has launched a new segment in the food service industry – dark kitchens. Dark kitchens describe a brand that delivers food with no dine-in facilities.
What Is a Dark Kitchen and Why Are They Growing?
Dark kitchens are commercial cooking spaces that function as a hub for food delivery and catering orders. It's an emerging trend that's been developed due to the changing conditions of the industry and in the digital age, as customers want easy, convenient ways to enjoy cuisines without cooking themselves or dining in at a restaurant.
Dark kitchens offer restaurants the ability to reduce labor costs, streamline delivery operations, and delight customers. Dark kitchens operate like any other type of commercial kitchen, requiring professional equipment to store, prep, and cook foods, including walk-in coolers and freezers. Some offer foodservice equipment as part of their lease agreement while others require the tenant to purchase their equipment.
Why Dark Kitchens Are Attractive
The growth in dark kitchens isn't just propelled by small businesses trying to survive. Major chains are also embracing the trend to streamline food delivery.
Dark kitchens offer a way to reduce costs, streamline efforts and expand reach. For those just starting out in the food service industry, dark kitchens allow for the ability to make a minimal investment and build up your brand, which could lead to dine-in opportunities.
For small restaurateurs, adding a dark kitchen could allow you to break into delivery and catering without expanding your current footprint. It offers you a way to trial run what entering other segments could look like.
Large and chain brands have much to gain with dark kitchens, as they can optimize their delivery efforts without infringing on the dine-in experience.
The Dynamic of Dark Kitchens: How They'll Grow in 2020
The idea of dark kitchens has become mainstream in 2020, with many big brands buying into the concept. Chick-fil-A uses dark kitchens in conjunction with DoorDash, and Starbucks has begun to build its own dark kitchens to satisfy delivery orders.
Right now, there are dark kitchen providers, as well as restaurants building their own. Restaurants will have to weigh the options of investing in their own or using a provider. Only major chains have the capital to develop their own dark kitchens while most rely on new spaces opened by dark kitchen operators.
The other expansion of dark kitchen spaces will be food delivery companies, such as DoorDash and Uber Eats. They aren't in the restaurant space and act as a partner to them, so it makes sense that they would also get into the game. These delivery businesses have every reason to invest, as they've grown 300% faster than dine-in eating over the last five years, according to Upserve.
Dark Kitchens Require Top of the Line Equipment
KPS Global is providing walk-in coolers and freezers for many of the large, dark kitchen providers over the last 12 months. Like any traditional foodservice operation, the scale and speed at which KPSG can operate is very attractive to dark kitchen providers who need to move quickly to satisfy demand. To learn more, check out their walk-in products or contact sales@kpsglobal.com.
—
Follow us on social media for the latest updates in B2B!
Twitter – @MarketScale
Facebook – facebook.com/marketscale
LinkedIn – linkedin.com/company/marketscale
Latest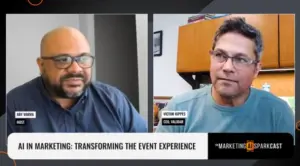 November 28, 2023
AI has been gradually changing the landscape of event technology at a very rapid pace. In an industry where staying ahead of technological trends is crucial, AI's impact on marketing and event management has become increasingly significant. As witnessed in the rise of account-based marketing and enhanced personalization, AI is effectively reshaping how events […]
Read More