Recent QSR Moves as Digital Ordering Continues to Soar
As the pandemic and social distancing persist, more and more daily activities have gone virtual. When it comes to meal-time decisions, convenience is key for customers. With the limitations the pandemic has put in place, what's the most convenient way to get healthy meals?
Many city residents use food delivery services like UberEats, Postmates, GrubHub or DoorDash to have their favorite meals delivered to them even when restaurants are limited due to COVID-19. QSR Magazine reports that Coolgreens is the latest restaurant to join in the "virtual kitchen" craze in Orlando. Now they are offering their healthy menu to customers in the surrounding suburbs and even adding on a subscription option to receive salads on a weekly basis.
The idea of a "ghost" or "cloud kitchen" has proven its value during the digital area and more-so during the pandemic. Euromoitor International Gloal Food & Beverage Lead, Michael Schaefer, says that "there's a view that the restaurant industry is where let's say the retail industry was maybe five years ago."
CNBC evaluated Morgan Stanley research that states that the market for online delivery is set to grow to 467 billion in 2025 with 67% of Americans ordering food online. Millennials make up the largest population and are accustomed to internet orders. This is a benefit to restaurants because they can fill orders faster and push them out sooner since they are not serving dine-in customers.
On-site ordering is also evolving due to digitally ordering. Each customer's preferences and tendencies are tracked with every transaction. This an incredible tool that will help brands determine what goes into the buying process to create more opportunities to cross-sell and upgrade.
Welcome Break understands the benefit for that digital data. QSR Web shared information from the press release where Chief Information Officer, Kash Ghedia, says, "It's imperative that our guests are well cared for whenever they select Welcome Break, and so it was important that our Burger King kiosk partner offered the kinds of seamless, efficient and memorable experiences our travelers have come to know and expect. The digital customer ordering experience is extremely important ensuring customers can easily find what they are looking for." The U.K. motorway service operator selected Tillster in a competitive battle to distribute in-store kiosks to 28 stores and soon an additional one.
Follow us on social media for the latest updates in B2B!
Twitter – @MarketScale
Facebook – facebook.com/marketscale
LinkedIn – linkedin.com/company/marketscale
Latest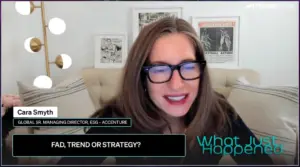 November 30, 2023
The world is in an era where sustainability and responsible retail business practices are increasingly crucial. For the latest episode of "What Just Happened," host Christine Russo further explored the hows and whys of this pressing issue by interviewing Cara Smyth, Global Senior Managing Director for ESG and Responsible Retail at Accenture, and Chair […]
Read More