Achieving a Transparent Supply Chain
Designed for retail leaders and lovers alike, Retail Refined explores the in-store technology of the future, challenges the industry's preconceived notions, and brings together retail's biggest names to understand the brand strategies that will define the next decade in retail.
How the world shops and buys has always been a steady evolution. In the last year, that incremental change hit rapid speed. That caused huge ramifications for the supply chain, creating a real need for transparency in many ways. Tackling the subject of transparent supply chains, host Melissa Gonzalez spoke with Ryan Yost, VP and General Manager at Avery Denison, leading their printer solutions division.
The first topic discussed was microfulfillment and showcase stores. Yost said, "Showcase stores are about demand creation from consumers where they discover product. Microfulfillment is how to fill that demand and doing it with speed and efficiency."
Consumers were once the last-mile part of the supply chain. Now, anything they want can be on their doorstep. While this reflects the time, transparency in the process matters.
"There are two parts to transparency in the supply chain. Consumers want to know where the goods come from and how they're produced. The second part is retailers knowing where the product is and getting it there the most efficient way," Yost explained.
Identifying where product is needs verification. Right now, barcodes are still the standard, which requires line of sight. RFID is more sophisticated and doesn't, but adoption is lagging due to cost and complexity.
To illustrate the transparency paradigms, Avery Denison released a movie with a farmer, fisherman, and fashion designer. It gives a voice to both parts of the transparency story.
With so much disruption in the supply chain, what's next? Yost answered, "The major trends will be frictionless experiences, which will be data-driven, figuring out how to keep the last mile experience but make it profitable, transparency to business partners and customers, and purpose-built automation."

Latest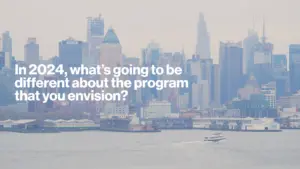 December 1, 2023
In the dynamic telecommunications landscape, Verizon's Partner Network continues to evolve, adapting to new trends and opportunities. For another segment featuring Mark Tina, VP of Indirect Channel Distribution and Channel Chief at Verizon Business Group, he explores exactly what types of significant changes and advancements the Verizon Partner Network will see in 2024. In this […]
Read More