Throwing Retail A Curveball
In recent years, analytics has changed the way Major League Baseball teams approach the sport. In the world of baseball retail, one company is using a similar approach to carve out a new direction of its own.
The teammates-turned-business-partners at Baseballism, a Portland, Oregon-based retailer founded in 2013, have defied conventional wisdom by creating success out of two institutions that are perceived to be shrinking.
Co-founders Jonathan Jwayad, Travis Chock, Jon Loomis and Kalin Boodman formerly played club baseball at the University of Oregon and ran a youth baseball camp, where a sharp t-shirt design started to catch people's attention.
"People were like, 'where'd you get that shirt?' I hit up my old teammates and said, 'guys, everyone's asking me where I got this shirt'," Chock said. "I'm going to make a run of these shirts, I'm going to sell them at the Baseball Academy that I'm working at and we'll just see how it goes."
Soon after, the four new entrepreneurs created a Kickstarter campaign that quickly surpassed its initial fundraising goal of $12,000.
The realization that a baseball lifestyle retail brand could work led to Baseballism becoming a full-time endeavor.
America's love for its pastime is still strong, but the Baseballism team could not rely solely on that passion to create a lucrative business. A clever strategy based on data insights allowed the company to make sales estimates for ecommerce, but more importantly at its brick-and-mortar stores, where most of its sales are still made.
Key to the company's growth has been its pursuit of placing brick-and-mortars next to MLB stadiums, home to its main customer demographic.
The company now operates eight brick-and-mortar locations, six of which are located next to MLB parks. The other two are situated in areas of annual baseball pilgrimages: at the Hall of Fame Cooperstown, New York and in Scottsdale, Arizona, a region where 15 MLB teams conduct spring training every March.
These locations provide much more statistical insight than just physical sales numbers.
"We use a metric called 'dollars-per-fan'. We know that if we look at the attendance of that team, we know we're going to get a certain dollar amount per fan. You just look at the list of 30 teams and you see where the attendance is," Jwayad said. "You know that if we put a store here, we merchandise the right way, we have the right products that we're going to get a dollar amount per fan. That gives us a framework for revenue, and then we can work backwards on whether it's going to be profitable or not."
Chock believes that by serving a specific niche, their potential customer base is larger than that of general retailers.
"You can be in a mall and you can have people walk by and it's just kind of like a dice roll whether that person's going to like your brand or not," he said. "We can open up a Baseballism store outside of a baseball stadium. I know that 85 percent of the people there are baseball people."
Still, social media plays a large role in the company. Having a pulse on the baseball community is critical to new product designs and customer engagement. In a sense, the game serves as a third forum for the brand and consumers to converse about, something many other retailers do not have.
"It's really important for us to stay in touch with the baseball community because those are our consumers and we want to make sure that things resonate with them," Boodman said. "But we also have a balance when it comes to that because we want to know what's new and popular and what the kids like or what we know might be popping on social media."
In the era of Amazon and booming ecommerce, Baseballism believes the brick-and-mortar field is less crowded and has proven to be financially lucrative, against the thinking of many in the industry.
"We've got the Main Street model with Cooperstown and Scottsdale, where it's baseball vacation, and then we've got the stadium model where as long as we do everything right, and that team has good attendance, we'll thrive," Jwayad said.
Because of such selectively targeted brick-and-mortar locations, the company's reliance on ecommerce has been reduced.
"When you look at the growth of Baseballism, we're only hoping for 10-to-15 percent growth online and then it's opening new doors. New doors in areas that make sense," Jwayad added.
Another insight that data has given the brand is that a very significant portion of its customer base is made up of women, which encouraged the team to design female products. This is not something they thought could be profitable at the onset of the company.
By knowing who was making the purchases and who followed Baseballism's social media accounts, the team realized women were not only interested in the products but making purchases. Now the brand sells more than $1 million in baseball glove-leather purses and handbags annually.
Data and strategy have allowed the company to scale up, but the founders still believe passion, connection, experience and community will keep Baseballism on its upward trajectory.
"The culture of baseball is everything to us. That's who we are. That's what we preach. What we try to do for baseball is we try to pitch things that everybody can buy into," Chock said.
Authenticity is something brands preach now more than ever, but this idea rings especially true with an audience so emotionally connected to a sport.
"Because we are baseball people and we try to make design items that we think are awesome as a baseball person and we think that other baseball people will think are awesome. We really try to avoid just putting things out there because we know that they could sell."
For the latest news, videos, and podcasts in the Retail Industry, be sure to subscribe to our industry publication.
Follow us on social media for the latest updates in B2B!
Twitter – @RetailMKSL
Facebook – facebook.com/marketscale
LinkedIn – linkedin.com/company/marketscale
Latest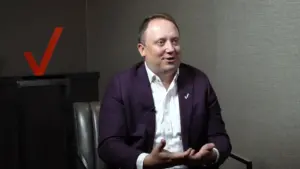 December 1, 2023
For a special episode of The Verizon Partner Network the focus was on the considerable role of partnerships in the Verizon Partner Program and the leaders shared their perspectives on the initiative. Their conversation brought about a lot of thought-providing context on the evolving telecommunications landscape. In today's era, collaboration and integration are key to […]
Read More