Capturing Mindshare via Digital Signage: Retail Refined
As the physical world becomes more digitally integrated, strategies around signage will become more comprehensive and sophisticated. Brands and retailers will need to uncover opportunities to interact in ways that not only feel safe but also educate, entertain and build customer loyalty. Digital signage is only the medium, experience is the crucial layer on top. From order queing via geofencing strategies to AI and personalization to voice activated messaging, learn how Raydiant CEO Bobby Marhamat and his team are helping position their clients to think outside the box and discover ways to bring their stores to life.
About Bobby
Bobby is the CEO of Raydiant, a digital signage provider that helps businesses turn their TVs into interactive signs that drive sales, improve the in-store experience, and reinforce brand messaging. Prior to joining Raydiant, Bobby served as the COO of Revel Systems where he worked on the front lines with over 25,000 brick and mortar restaurateurs and retailers. Bobby has held leadership positions including CEO, CRO, and VP of Sales at companies such as Highfive, Limos.com, EVO2, Verizon Wireless, LookSmart, ServerPlex Networks, and Sprint/Nextel. Bobby is also the author of "You got that P.H.d.?" a book written to give entrepreneurs a blueprint of what to focus on to quickly scale their business. When Bobby's not spending his time thinking about the future of brick and mortar experiences, you can find him traveling, reading, hiking or tending to his colorful vegetable garden.
About Raydiant
Raydiant uses technology to help businesses bring their physical locations to life. Whether showcasing the steam off of a coffee in a menu, playing in-store music, or even displaying employee messaging, Raydiant ensures a brand's messaging is consistent – all while offering the ability to tailor each screen to varying audiences and interactive content.
What Melissa Asked
1. We are living in unprecedented times, times that are fueling consumer and retailer adoption of technology – putting Raydiant in an interesting position. In what ways have these changes impacted Raydiant.
2. What role do you see Raydiant playing in the growing adoption of order ahead and curbside order pick up?
3. What are the most common challenges you see for clients being able to streamline content distribution across locations and how does Raydiant help streamline that?
4. How do you work with your clients to help find creative ways to create unique ways to distribute content?
5. The digital signage market is set for significant growth over the next couple of years. What advancements in display technology are also likely to drive the market in your opinion?
6. The out-store location segment is expected to witness considerable growth through 2027 owing to growing adoption of digital signage in various outdoor applications, how are you foreseeing this trend evolving?


Latest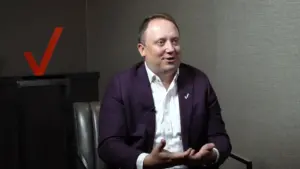 December 1, 2023
For a special episode of The Verizon Partner Network the focus was on the considerable role of partnerships in the Verizon Partner Program and the leaders shared their perspectives on the initiative. Their conversation brought about a lot of thought-providing context on the evolving telecommunications landscape. In today's era, collaboration and integration are key to […]
Read More