To Balance Customer Satisfaction And Reduce Try-And-Return Purchases, Retailers Need to Sell Consistent Sizing and Analyse Return Data
In a significant policy reversal, fashion retailer H&M recently backtracked on instituting a small return fee on its UK customers who seek to return online purchases in-store. However, this fee still applies for items returned to the warehouse — a move that aligns with industry practices. Many retailers, including Zara and Boohoo, have instituted return fees and shorter return windows in hopes of stemming the number of 'try-and-return' purchases. But with customer surveys showing that no-fuss return policies impact their buying habits, how can businesses balance customer-centric approaches with the need for profitability?
Experts believe that effective returns management involves not just reversing the supply chain but also extracting valuable insights from return data to enhance the overall customer experience. Addressing the growing trend of 'try-and-return' purchases requires a nuanced approach, including displaying accurate product information and manufacturing 'consistent' sizing to reduce return rates.
Dr. Wesley Boyce, Assistant Professor of Practice in Supply Chain Management and Analytics at the University of Nebraska-Lincoln, is an expert in logistics and supply chain management. Dr. Boyce, who holds a Ph.D. in Business Administration and has extensive experience in teaching and research, offers insights into the complexities of supply chain management.
Dr. Boyce's Thoughts
"Now, having a returns management organization within the firm, just a team that manages it, make it better at the very least, can help them make improvements, especially if they're looking at the data and really trying to pull insights out of that.
The thing to start with is that firms like Nordstrom or Amazon and many others have really set a high bar for the return process. Very complicating factor for other firms like H&M and Zara. Now, the fact that they have this fee now is very tricky. The fact that they are tweaking their return process and trying different things is probably the right thing to do. I highly doubt it's going to stick. Some customers have claimed that the returns process is equally important as the purchase and delivery. So this is a really crucial area. Consumers are used to free returns, thanks to firms like Amazon. Firms like H&M and Zara and any firm, frankly, should really try to be as customer centric as they possibly can. With these return policies, they're going to need to alter them as necessary. So you can't just set it and forget it. It's never going to work. Really importantly is communicate well with customers because customers don't know what to expect or they're surprised with the return process. They're not going to be happy and the odds are they're not going to come back. So these things don't fix everything, of course, because firms still need to remain profitable. These types of actions can help since consumers really want to be informed. We're a bit spoiled now, to be honest.
Returns management and reverse logistics, these aren't new things, but they're becoming more and more crucial to any company's supply chain strategy or even, frankly, the business strategy in general. This is way more complicated than just hitting reverse on the supply chain. It's just drastically different. Firms have to have a strategy for this. If they don't have a strategy for reverse logistics, there's going to be a lot of wastes, a lot of costs. Just continue to eat away at their profits.
Having a returns management organization within the firm, just a team that manages it, make it better at the very least, can help them make improvements, especially if they're looking at the data and really trying to pull insights out of that. An example of that would be why, the how, the when. Basically every detail about customers making returns so that we can really learn from them and leverage from that learning to basically improve this overall process and customer experience.
This is going to be hard because a lot of consumers these days are basically taught to return things and that these are normal. You know, firms like Amazon have these programs where they're happy to send you clothing just to try on and return if you don't like it. So it's really conditioning us to, I don't want to say abuse the system, but really leverage it, which is not good for most retailers. So what we can do is start to re-educate consumers. This is going to take some effort, but we're going to have to make sure information on the website is accurate. We're going to have to make sure photos are accurate. We want consumers to be as knowledgeable as possible about what they're buying in order to ideally prevent them from making a return. Now, one caveat to that, of course, is a lot of variations when you're talking about sizing with clothing, for example. So if you want to buy a medium shirt from one company and a medium shirt from another company, those could fit drastically different. And that's not something we can just fix immediately, but maybe consistent sizing or something like that could help with that type of issue."
Article written by MarketScale.
Latest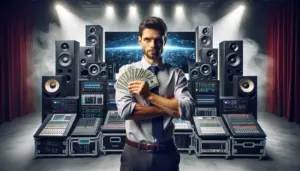 December 8, 2023
Mastering AV sales strategies in a global professional audio-visual (Pro AV) market, poised to reach $79.2 billion by 2028, requires much attention to detail. The surge in demand from corporate, government, and institutional sectors, driven by the need for enhanced productivity and efficient working environments, gives AV sales pros a lot of opportunity. In […]
Read More