Does Live Streaming Have a Permanent Place in Retail?
We haven't even scratched the surface when it comes to the future of live streaming. Mostly when we thing of live streaming we think of things like Facebook Live or Instagram Live but now more than ever there are options where content can be live streamed.
In this clip of MarketScale's Retail Refined Melissa Gonzales speaks with Kenneth Tan Co-Founder and CEO of BeLive Technology a company that offers live streaming solutions to retailers and big companies. The two dive into what BeLive Technology is all about and what current trends are happening in live streaming and what the future can hold for it .
So, why is live streaming so hot right now? Tan offered several reasons for this. "The technology is more accessible. The content quality increased, as well. The pandemic is another factor."
Since consumers are hooked on it, that means retailers see its potential, too. "There has been a spike in retailers using it to engage audiences. Brands are ready to invest in it," Tan said.
Retailers can use the medium in different ways to host a chat, live shopping that delivers a real-time e-commerce experience, and entertainment.
That investment is one that retailers expect a return on, so how do they measure its effectiveness. Creating a live stream usually has the objective of selling products. "Engagement metrics are important for this. Conversions, too, if trackable on a brand's website," Tan replied.
Tan also talked about what makes a live stream for retailers a success. After all, these productions are for the audience. "It's an experience for the viewer, so you have to speak to them. Products should be demonstrable like beauty products, electronics, and apparel. They should have high production quality and use multiple camera angles."
Every week Retail Refined explores the in-store technology of the future, challenges the industry's preconceived notions, and brings together retail's biggest names to understand the brand strategies that will define the next decade in retail.
More Stories Like This One:
Latest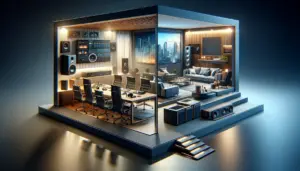 November 27, 2023
In this episode of "Pro AV Today," host Ben Thomas sits down with Audra Kinsley of Sonos Professional to unpack a topic that's causing (sound) waves in the audio industry: the fusion of commercial and residential audio systems. As we navigate through a landscape where consumer and professional audio worlds are increasingly intersecting, Sonos steps […]
Read More