Retail Refined: Why Your Brand Should Live Stream
With
ShopShops
, viewers can watch hosts, from experienced salespeople to fashion or beauty influencers, via a
QVC
-style live stream as they display clothes and accessories for up to several hours. In this episode of
Retail Refined
,
Melissa
learns how
ShopShops
is democratizing access to both brands and influencers and allowing them to bring offline shopping online. Founder
Liyia Wu
shares what makes a live stream event successful and a few unexpected lessons, such as coordinating the sale of a $14,500
Birkin
bag and how shoppers themselves have influenced each others purchases.
Questions Melissa Asked
How have you seen adoption evolve around live streaming (on both the consumer side and the brand/retailer side)?
What has been your formula for success with converting content to sales?
What have been some expected outcomes/learning you can share?
Where do you see the marketing evolving with "try-on" via live stream?
As you evolve to a more open platform technology, what new release and integrations do you see in the future?
About the Company
ShopShops, headquartered in NY, LA and Beijing, is a platform that connects brick-and-mortar retailers in the United States with consumers around the world. Stores host live streamed events with hosts who sell to viewers in real time.
Upcoming Event
Melissa will be hosting a webinar titled The New Consumer Behaviors That Will Reshape The Physical Store on June 9th. During the session, she will cover how stores will approach the reallocation of front-of-house and back-of-house employees to better serve new logistical needs and customer expectations.
For more information or to register for the seminar, you can visit Retail Innovation Week.


Latest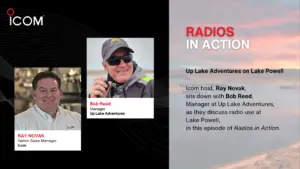 November 29, 2023
Delving into the serene beauty of Lake Powell, the Icom Podcast "Radios in Action" pairs the thrill of personal watercraft adventures with the crucial use of marine radios. Host Ray Novak and Bob Reed, the Manager of Up Lake Adventures, discuss the enthralling experiences offered by Up Lake Adventures in Utah's majestic landscapes. In […]
Read More