Driving Sales in the Era of Remote Communication
On this episode of Retail Refined, host Melissa Gonzalez was joined by Leigh Sevin, Co-Founder of Endear, for a topical discussion – how can salespeople reach customers and drive new business when face-to-face interaction isn't possible?
Endear helps retail teams make sales over text and email and to build meaningful relationships with customers that go beyond the traditional sales setting. In short, it's "on a mission to change the way the retail industry thinks about sales" by empowering retail salespeople to leverage these tools when face-to-face communication is either slow or not an option.
The platform also helps salespeople track how well these efforts are working, providing omnichannel tracking and a unified customer CRM aimed at giving salespeople the tools they need to succeed.
"There's no denying that organic foot traffic is, at this point, a thing of the past," Sevin said. "Any time someone walks in a store, it is usually because they were reminded about a promotion or they saw something online. So, it's really about making sure that the store associates have ways to contribute to motivating the customers to come in or, if customers – especially now, with what's going on – don't want to come in, they can still do their jobs. They can still sell."
Gonzalez and Sevin chatted about how Endear's data-driven software unifies customer profiles to give salespeople valuable insights, changing customer behaviors, best practices for modern retailers, the future of personalization, and more.

Latest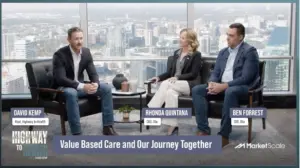 December 7, 2023
As of recent times, the healthcare industry has been progressively shifting towards value-based care, a model that emphasizes patient outcomes over the quantity of services delivered. This transition represents a significant shift that promises to enhance patient experiences and outcomes while controlling healthcare costs. With a growing emphasis on this approach, especially over the […]
Read More