The Future of Data Driven Store Design: Retail Refined
In this podcast, Melissa Gonzalez discusses the evolution of store design through data collection and statistical analytics with George Shaw, founder of Pathr. Via computer vision and AI, George discusses how Pathr is able to capture actionable insights to inform operations teams, LP and marketing teams alike to illuminate shopper groups, customers and staff interactions and throughput opportunities at check-out. Social distancing will guide new store layouts, but science will help inform optimization and ways to increase flow without sacrificing safety.
Bio:
George Shaw is the Pathr Founder and CEO. A consummate industry veteran working at the intersection of data and engineering, Shaw is a true innovator in the fields of spatial analytics, Machine Learning (ML), Artificial Intelligence (AI) and related technology solutions. Prior to founding Pathr, a disruptive new pioneer in the Spatial Intelligence space, Shaw held senior positions at RetailNext, Intel, Second Spectrum, Target, and many other leading edge brands—working in the capacities of Principal Engineer, Principal Data Strategist, Vice President of Research and Development, Technical Fellow and Scientific Advisor. He serves as an advisor to multiple start-up and emerging technology entities, and has worked as a senior lecturer and educator. He additionally holds multiple U.S. patents for his inventive work in the areas of retail analytics methodology, customer movement and path analysis. Shaw graduated from Boston University, and holds a Master of Science degree from MIT.
1) Tell us a bit about your customers and your data collection process
2) How do you set up a brand/retailer, what are the necessary steps?
3) How do you analyze data and what were some key learnings of recent? Proof points, maybe a recent case study.
4) How do you see the store layout evolving post COVID19 and how will your data help retailers achieve needed changes?
5) How do you see the role of the store associate evolving?
6) How do you see the adoption of technology in-store evolving? What will help adoption? (Ie pricing, IT infrascture, etc)
7) Fun question I ask everyone, we can't travel right now but soon we will be able to . What are the 3 must things to do/visit in your home city when we are all able travel again


Latest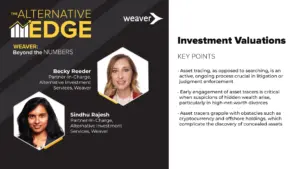 December 4, 2023
In this episode of The Alternative Edge, a Weaver: Beyond the Numbers Podcast, host Becky Reeder, an audit partner and co-leader of the alternative investments practice at Weaver, engages with Sindhu Rajesh, an Alternative Investment Services Partner with Weaver. They unpack the complexities of venture fund valuations, offering critical insights into industry dynamics and best […]
Read More