The Future of Eradicating Fit Risk: Retail Refined
In this episode, we speak with Haniff Brown, Founder of Fit:Match to discuss how AI is helping consumers get exactly what they want. Much like netflix powers a recommendation engine for content, Fit:Match can scan a person in 3 minutes and use that data to find and suggest the brands and retailers that carry items that have the ideal fit for a person's body type.
Bio:
Haniff Brown considers himself to be a passionate entrepreneur helping to solve real, everyday consumer pain points. Prior to FIT:MATCH, Haniff spent almost a decade in the retail and consumer investment industry. He worked at Freeman Spogli, a consumer based private equity firm in New York, where he helped to analyze new investments and help existing portfolio companies scale their businesses. Haniff also spent three years as an investment banking analyst in the consumer and retail group at Credit Suisse. He received his bachelor's degree in Mathematics and Psychology from Williams College in 2009.
Questions asked:
– How does Fit:Match help brands and retailers eradicate "fit risk" and how do you see that need accelerating in the new norm?
– Walk us through the customer experience and how you collect data?
– Early learnings on consumer sentiment and reception of the Fit:Match experience
– How do you on board a brand? What are the steps/requirements?
– How do you see your technology evolving? Will at-home scans be possible? Do you envision Fit:Match fully powering dressing rooms for brand and retail partners?
– Fun question I am asking all guests, since we can't travel these days (but we will again) what are your top 3 must visit/ must do's in Florida?


Latest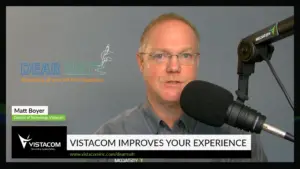 December 11, 2023
In a time when the AV industry supply chain faces unprecedented challenges, understanding its current status and future trajectory is crucial. In this week's segment of "Dear Matt," presented by Vistacom, host Matt Boyer, the Director of Technology at Vistacom, brings his over 30 years of experience in the audiovisual industry to the status […]
Read More