How Can Physical Retail Support Ecommerce Distribution?
Successful business leaders are always looking for the next way to cut costs, maximize profits, and run their company more efficiently.
Brick-and-mortar retailers with a significant amount of ecommerce sales experience a huge amount of inefficiencies in their fulfillment and shipping processes. How can they utilize their existing infrastructure — their people, product, and stores — more efficiently? Is there a way to improve both the company's logistics and the customer's shopping experience at the same time?
Rob Caucci and William Thayer, the co-founders of Fillogic, join host Melissa Gonzalez on MarketScale's Retail Refined Podcast to answer these questions. Fillogic, an in-mall logistics platform, revolutionizes the ecommerce space by turning shopping centers into mini-distribution hubs for retailers.
For years, the logistics of physical retail could not support ecommerce distribution from brick-and-mortar stores. Ironically, one of the best ways to support a retailer's ecommerce efforts is from a shopping mall.
By acting as the physical API between the ecommerce and in-store aspects of a retailer, Fillogic aims to reduce the amount of touchpoints between the customer and their online orders. After all, most retailers are suffering because of the sheer number of touches their shipments must go through — and this package journey ultimately impacts the customer experience as well.
Turning shopping malls into mini-distribution centers reduces the touches needed for any one shipment, while also consolidating shipments and increasing the retailer's aggregate outbound volume. This brings massive benefits to the three stakeholders invested in the success of these shopping malls: the landlords, tenants, and parcel carriers.

Latest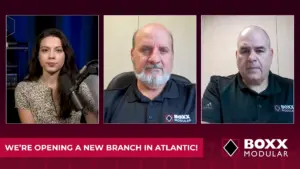 December 4, 2023
In an era where construction innovation is reshaping the industry, modular construction's growth continues to rise. In this episode of Built Modular, Boxx Modular's strategic expansion into Moncton, Atlantic Canada takes center stage. Host Gabrielle Bejarano welcomes Charles Landry and Ray Girouard to explore the implications of this venture. Bejarano, Landry, and Girouard discuss […]
Read More