Mobile Advertising AR Use is Set to Outpace Traditional Advertising Methods. How Are Retailers Making the Most of It?
Pokémon Go, which was all the rage back in 2016, may have simmered down, but the concept behind it—augmented reality (AR)—is heating up and becoming a more accessible tool for industries to deploy in service of the experience economy. This is especially true for retailers and retail marketing strategies. Mobile advertising AR is predicted to surpass smartphone QR use over the next three years, with projections that there will be about 100 million QR code users and about 110 million AR users by 2025, according to Insider Intelligence. A variety of AR trends will be cropping up in mobile marketing this year. Which ones could prove most useful for retailers?
One of the up-and-coming trends is WebAR, which is technology in web browsers that can facilitate virtual try-on experiences and is already in use by makeup companies like Maybelline. FRED Jewelry is following a similar idea, letting people customize jewelry online and try their designs on virtually. AR manuals are another tool being used to capture the attention of customers and assist in learning techniques or skills at no cost.
What is generating so much success for mobile advertising AR use in retail and what are some of the challenges it may face? Jason Yim, Founder and CEO of TriggerXR, provides his thoughts on why AR use is effective and what advertisers may need to consider.
Jason's Thoughts
"I think it's important to note that brands and consumers are already using AR through media for commerce. The trend is growing and I think the trend is going to…and adoption will continue to grow in 2023 and beyond. But we are already seeing it used in significant numbers. For example, Snap just said last year, 250 million users have tried their AR shopping features 5 billion times just last year alone. Some of our lenses get tens of millions of activations per lens. So we are already hitting strong numbers in this space.
The big question is why, right? Like why is it already successful? I would say one is consumers, especially younger consumers, are looking for more engaging interactions, more immersive experiences especially in the shopping area. Number two, it collapses the sales funnel. So in a single digital experience, you can engage the consumer, you can inform them about the product, they can actually try on the product, and then you can actually purchase it through a single build, which is a pretty unique offering to AR compared to something like a buying a YouTube video or a banner ad or something like that.
And you may ask, "Wow, you're doing all these things at one time. Is this, is it successful?" Yes, it's very successful. Actually with AR try ons, you can get 2x to 11x better conversion rates than just using 2D media or your traditional media, which is amazing, depending on the product. Furniture for instance, of course, large 3D objects, has a much higher kind of conversion number.
Then there's also just the benefits on the campaign side. You can build these things once and then deploy and activate off of all of your channels. Using URLs, it can go through all your digital and social channels, and then at retail you can design QR codes that can be on physical product, on labels, on POS, on signage, even on massive billboards that we've done for some of our clients that consumers can launch off of. And those codes don't have to be one code for everyone. Like you can individualize those codes for every single store, every single display, and then you can actually track all that information. So you can see your global campaign down to the display and how well it's doing, or just look at it from a country or territory or store kind of performance.
And I think the most unique thing about it is that there are things you can do in AR that you just can't do in any other media, right?… Three big things. One is you can see the product in full 360 and life size. So that's part of the technology. Even in web AR you can actually now see it in the kinda true size. So how does something look at from every single angle? And that's harder to do in video and 2D, of course. You can try the product on. Everyone's of course seeing, trying on glasses, some products now you can try on, like scan your body and stand in front of it.
And I think the third part, which is tied into that, is that it is true personalization. Like you are actually taking in a consumer's data, right? Like you are scanning their home, you are in some cases scanning their physical body and kind of retaining some of that information for this kind of true personalization. So I think that's all very powerful.
And there are plenty knock on benefits, right? Higher customer satisfaction. There's lower return rates because of that. And I think, as Tim Cook said last year, we're going to look back and wonder how we lived without AR, especially on the shopping side. How did we make that shopping decision based off of a 2D image that's like this big?
Challenges. Of course there's always challenges. I think number one is going to be a 3D pipeline, like in order for you to see a product in 3D, in AR, of course, you need that 3D asset in the first place, and that's typically easy for one or two products at a time. But what about an entire line?
For everything in a brand's catalog? That's a level of complexity that's a lot higher. But this is actually starting to happen. So Amazon and Snap just announced the partnership where they're going to enable thousands of sunglasses to be able for you to do a virtual tryout.
So that gets at a much bigger number and much more all-encompassing approach. And that's much better for the consumer. It's not like, "I like one pair of glasses and I got to try 'em on, and then, oh, I'm going to look at another brand, oh, this one doesn't have a try-on, but I really like that brand. And then there's a third brand that may have the try-on or not." So it's much better for the consumer if every single time I wanna try on sunglasses, there's a virtual try-on option.
Another challenge is proper deployment at retail. You have to design the messaging around the QR code, you have to make sure that QR code isn't placed on a product with other QR codes to crowd it, so just clear communication to the consumer, that's just a little level of effort there. And also working with that retail group as well. And then there are higher-end functionality things that are still nascent, right? Like that whole full body scanning solution that has come out. It's both early in terms of how accurate that technology is, but it's also early in user adoption because we still need consumers to be comfortable to scan themselves physically. How do you message that? How do you walk them through that? How do you make sure they're okay with the security and privacy around that? But definitely it is growing. The train has left the station. It's going to be a whole new world out there. So really exciting times."
Latest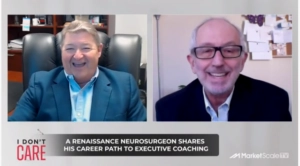 September 22, 2023
The healthcare industry grapples with an overload of information, patient safety concerns, and an increasingly digital landscape. This fact makes professionals who can bridge the gaps between various healthcare disciplines a precious commodity. In fact, according to the Healthcare Information and Management Systems Society (HIMSS), a lot of healthcare organizations and workers believe that […]
Read More