Retail Refined: The Shopping Experience and Future of Payment Integration
The future of payments will be more fluid than ever in tomorrow's "new norm." Customers are engaging with brands across channels with fewer pauses and will expect that fluidity to continue in a seamless and frictionless way, from in-store to online.
In this discussion, learn how Klarna is helping brands and retailers re-think strategies around the point of sale.
David Sykes is the Head of U.S. for Klarna, one of Europe's largest banks offering direct payments, pay after delivery options and installment plans in a one-click purchase experience for customers.
Previously, Sykes was the Chief Operating Officer of QuadPay, another payment platform, as well as the International General Manager for Crown Resorts.
Melissa will be back every Tuesday with new episodes! In the meantime, tune in every Thursday with Jennifer Kaylo Ruscin on Bricks and Clicks.

To keep up with all things retail, stay tuned to MarketScale's Retail Industry publication here.
Learn More About Melissa:
Follow Melissa on Social:
Latest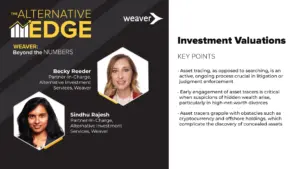 December 4, 2023
In this episode of The Alternative Edge, a Weaver: Beyond the Numbers Podcast, host Becky Reeder, an audit partner and co-leader of the alternative investments practice at Weaver, engages with Sindhu Rajesh, an Alternative Investment Services Partner with Weaver. They unpack the complexities of venture fund valuations, offering critical insights into industry dynamics and best […]
Read More