Wholesale Curtailed! Why Retail's Favorite Model is Faltering
Retail is exciting, fast-moving, and filled with opportunity, yet information overload is a constant challenge. Join retail strategist, speaker, and trainer Carol Spieckerman every other Thursday as she navigates past the noise to get to the heart of what really matters in retail. In every episode, Carol harnesses her latest retail trajectories and interviews with industry experts to distill tools, tactics, and takeaways for wherever you play in retail. If you're ready to cut to the chase, or just want to be inspired about where retail is going next, this show is for you.
Wholesale relationships have fueled retail for decades, yet brands like Nike and Under Armour are starting to show the hand to intermediaries. Even retailers are getting in on the game as agile alternatives beckon. In this episode, Carol explores the origins leading to the curtailing of wholesale and why retail is evolving beyond traditional collaborative models. She gives her take on the best candidates for pulling off a pull-back and what it all means to retailers, suppliers, and solution providers.
In this episode you'll learn:
How brand ubiquity became the new standard
Why wholesale hold-outs will drive brick and mortar momentum
How Amazon has watered down brand purity standards
Why platform power determines brand destiny

Latest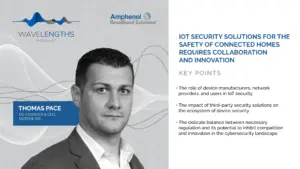 November 28, 2023
Since the introduction of smart devices, the world has increasingly become dominated by interconnected devices but IoT securitydemands are also growing. The "connected home" has shifted from what was once a futuristic concept to reality. With the global smart home market projected to reach $135.3 billion by 2025, the conversation around the security of these […]
Read More