Video Games are the Latest NIL Partnerships That Talented College Students Should Be Seeking
The fact digital and physical realms increasingly intersect nowadays, the concept of NIL (Name, Image, and Likeness) is altering the fabric of amateur sports and video games. Once limited to athletic prowess and academic achievements, today's college athletes are fast becoming social media influencers, business moguls, and gaming enthusiasts.  
This isn't just about fast money. It's about creating a brand that stretches beyond the field or court. The virtual scoreboard is now just as important as the one at the stadium. So does your social media followers and engagement. All of this is part of a larger narrative that today's athlete lives at the intersection of several industries. As student interest in video game NIL partnerships heat up, there's a legal process brewing with EA games and their use of student NILs. 
Leigh Steinberg, renowned sports agent and Adjunct Professor at Concordia University Irvine, is at the forefront of analyzing how NIL deals and technology are reshaping the world of amateur sports. Steinberg is an expert in the field of sports agency and often helps people and their personal brandings. He added that NIL deals are more attainable to the students with big media followings. Further stating that video games have appealed to this current generation more than any other and why students are gravitating towards it.
Steinberg's Thoughts
"Name, image, and likeness has triggered a revolution on college campuses across the country and changed forever the fabric of what it means to be an amateur athlete. The first key in NILs is to create a branding presence on the internet. So, the currency in all of this is how many followers does a student or personality have on TikTok and Instagram and various forms of social media because that number of followers can be monetized."
"This generation grows up on video games and so they're especially interested in a relationship with a video game producer. And it doesn't have to be EA Sports, it can be any level of video game. And there's a natural symmetry between contemporary athletes and video games. And so I think that remember that what we're talking about is a group of athletes and celebrities that is major. Certain colleges and universities have alum groups that are called collectives that band together to offer opportunities through their businesses. And E-Games, video game, can be a major part of this because it's an athlete or personality speaking to their own generation about how cool this game is or this game is."
Article written by Alexandra Simon.
Latest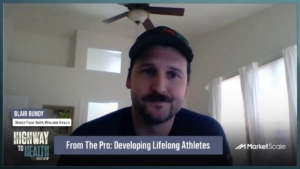 September 20, 2023
Blair Bundy, the Director of Player Health for the Milwaukee Brewers, recently shared his insights on the importance of nurturing lifelong athletes from a young age. He emphasized that the ultimate goal for children participating in sports is not just about winning games but about fostering physical and mental resilience. Such individuals lessen the strain […]
Read More