McDonald's Revives Celebrity Brand Collaboration with Travis Scott Burger
Twenty eight years ago, McDonald's partnered with Michael Jordan to brand, market, and sell their meals. The fast-food chain has not attempted a celebrity branded partnership since…until now. On September 8, Variety reported the brand collaboration between McDonald's and Travis Scott. Fans of Travis' psychedelic hip-hop can now order his signature McDonald's meal: a fully loaded quarter pounder, with fries, BBQ sauce, and a Sprite. The publicity drop coincides with the release of Scott's collaborative merchandise and clothing line flashing a vintage McDonald's look.
In this Business Casual snippet, hosts Daniel Litwin and Tyler Kern consider McDonald's high profile attempt at influencer marketing. Will the product, a decked out burger, be enough to get target customers in the drive through? Litwin and Kern break down takeaways of this brand partnership and what marketers can take away from the collaboration.

Next time Only on Run the Pass
Chef Andre Natera will be back as he invites the CEO of Food Related, Luciano Ciociari into his kitchen to design the perfect charcutterie board and to learn how Luciano has revitalized his family company to ensure its growth for future generations.
Want to stay up to date on what is happening in Food and Beverage and Run the Pass? Subscribe here.
Latest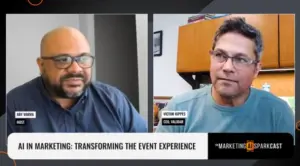 November 28, 2023
AI has been gradually changing the landscape of event technology at a very rapid pace. In an industry where staying ahead of technological trends is crucial, AI's impact on marketing and event management has become increasingly significant. As witnessed in the rise of account-based marketing and enhanced personalization, AI is effectively reshaping how events […]
Read More