Location Analytics Are Reshaping Offline Retail's Future
Designed for retail leaders and lovers alike, Retail Refined explores the in-store technology of the future, challenges the industry's preconceived notions, and brings together retail's biggest names to understand the brand strategies that will define the next decade in retail.
Data-driven retail delivers insights that lead to better decision-making. On the digital side, retailers have easy data sources, but offline retail is harder to quantify. Location analytics is closing the gap. To learn all about this exciting segment of data analytics and how it's redefining retail, host Melissa Gonzalez welcomed Ethan Chernofsky, VP of Marketing for Placer.ai.
Basic concepts about foot traffic had been around for some time, with perimeter circles, but those lack accuracy and detail. Placer's location analytics platform is different, providing a real break down of where people come from, a revolutionary approach.
So, what has the industry learned in the last six months? "The trends likely stay are the shifts regarding economic uncertainty and consumers rethinking how they spend. It's why off-price retailers are doing better than department stores," he said.
Others are likely to be fads. Chernofsky added, "Mission-driven shopping of going to fewer places but spending more and the home improvement surge aren't likely to stay."
Placer recently launched a free tool, The Square, which includes quarterly indices based on sector. In looking at certain segments, there were surprises. "In the fitness sector, they were hit hard, but Planet Fitness is performing well while competitors close. Whole Foods is facing a unique set of challenges. As grocery, they aren't trending up like others, but that could be due to their price points and mostly urban footprint," Chernofsky said.
Chernofsky also spoke about the trends for 2021 and beyond, noting that offline retail is still critical. That data can support what's next. In tackling the subject of malls, which have been in decline, he thinks a brighter future is possible.
"With a fundamental shift in how we view locations, malls could become smaller but also more diverse with targeted experiences based on specific audiences," he noted.
Another essential factor for the future is that one size does not fit all, and chains have to adapt based on their audience and location. Chernofsky spoke about how Target was able to do this. "Locations are very diverse depending on the audience from stores on college campuses to more suburban stores. If a brand of that size can do this, others can adapt as well," he added.

Latest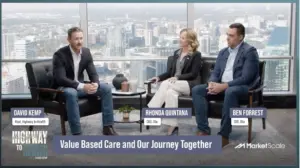 December 7, 2023
As of recent times, the healthcare industry has been progressively shifting towards value-based care, a model that emphasizes patient outcomes over the quantity of services delivered. This transition represents a significant shift that promises to enhance patient experiences and outcomes while controlling healthcare costs. With a growing emphasis on this approach, especially over the […]
Read More