Retail Imposter Syndrome: Common, Confounding, and Curable!
Retail is exciting, fast-moving, and filled with opportunity, yet information overload is a constant challenge. Join retail strategist, speaker, and trainer Carol Spieckerman every other Thursday as she navigates past the noise to get to the heart of what really matters in retail. In every episode, Carol harnesses her latest retail trajectories and interviews with industry experts to distill tools, tactics, and takeaways for wherever you play in retail. If you're ready to cut to the chase, or just want to be inspired about where retail is going next, this show is for you.
Call it thought leadership, know-how, or just retail smarts. Many supplier's dirty little secret is that it's missing, and deep down they know that's a problem! Retail imposter syndrome is a common complaint and once it sets in, it can seem easier to pitch your products and solutions along with everyone else and call it a day. But why would you give up your biggest edge without a fight? In this episode, Carol reveals a simple technique for weaving retail thought leadership into your marketing and business development process, and why you owe it to your business to do it.
In this episode you'll learn:
How to message retail smarts in four words or fewer
Why delaying your pitch is a perfect play
How to become a retail authority without the exhaustion
How setting the landscape will send your competitors packing

Latest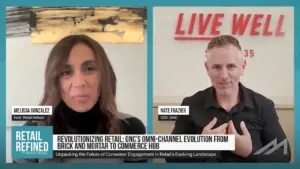 November 29, 2023
The transformation from a traditional brick-and-mortar store to an integrated commerce hub is crucial in the fast-evolving retail landscape. GNC's omni-channel evolution epitomizes this shift, blending in-person and digital experiences to meet the contemporary consumer's demands. But what does this mean for the future of retail? "Retail Refined," hosted by Melissa Gonzalez, welcomes Nate […]
Read More