How Personalization and Supply Chain Efficiency are Driving Retail Resurgence
Designed for retail leaders and lovers alike, Retail Refined explores the in-store technology of the future, challenges the industry's preconceived notions, and brings together retail's biggest names to understand the brand strategies that will define the next decade in retail.
Melissa Gonzalez, host of MarketScale's Retail Refined, knows what's at the top of everyone in the industry's mind as 2021 dawns – more personalized experiences and better supply chain efficiency.
In the wake of the COVID-19 pandemic, these two trends are paramount. Consumers are still hesitant to shop in person in many cases but, when they do, they'll likely return to elevated expectations for personalized and tailored experiences. Those experience also transfer to online shopping, where data and analytics can help find ways to cater to individual consumers engaging in eCommerce.
More pressing on the backend of retail operations, though, is the need to find ways to ensure the supply chain keeps pace with all of this innovation.
To dive further into personalization and optimization of the supply chain, Gonzalez invited Paul Burel, Senior Consultant within Fujitsu America's Consumer and Commercial Industries Group, onto the show to share his insights.
Prior to joining Fujitsu, Burel held several senior management roles in Store Operations and IT at Home Depot. He is also a consulting engineer with extensive experience in retail store design and construction andcomes from a family retail business that owned and operated grocery, hardware and convenience stores.
"A lot of conversations we're having as we're relooking at store design are about how we make these environments as agile and modular as possible, so they can flex as needed throughout key times of the year," Burel said. "It's a lot to think through, for sure, with all these technology integrations. I think one of the silver linings is all the learnings that we can garner, and I think that there's a much more concerted effort within brands and retailers to understand that data and take actionable steps based on that. I think it also helps the ability to deliver upon personalization and really being able to map out customer journeys and offerings to satisfy what different consumers are looking for."

Latest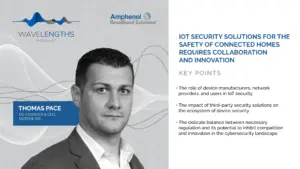 November 28, 2023
Since the introduction of smart devices, the world has increasingly become dominated by interconnected devices but IoT securitydemands are also growing. The "connected home" has shifted from what was once a futuristic concept to reality. With the global smart home market projected to reach $135.3 billion by 2025, the conversation around the security of these […]
Read More