The Blending of Brick-and-Mortar and Online and the Rise of 'Dark Stores'
Designed for retail leaders and lovers alike, Retail Refined explores the in-store technology of the future, challenges the industry's preconceived notions, and brings together retail's biggest names to understand the brand strategies that will define the next decade in retail.
Steve Hornyak oversees Fabric's global sales, marketing, business development and customer success business functions. He has worked in the retail technology, software, and SaaS business sectors for the past 30 years, including executive and senior management positions at PricewaterhouseCoopers, Oracle, SQL Financials, Clarus, Brickstream (Nomi), Trax Image Recognition, and Symphony RetailAI. He has also actively participated in, prepared for and executed two IPOs, raising over $300M in the public market.
All of that expertise makes him the perfect guest for this episode of Retail Refined with host Melissa Gonzalez, which focused on rethinking malls for the post-COVID world, closing the gap between brick-and-mortar experiences and their online counterparts, and why leveraging and repurposing existing real estate is going to be critical for eCommerce success.
Fabric helps retailers quickly scale operations, using their proprietary technology and robotic-picking systems to provide profitable, and efficient logistic solutions without sacrificing delivery times.
Below, you'll find a portion of Gonzalez and Hornyak's conversation. To hear all the insights in this episode, listen now.
MG: Everybody's trying to shrink that last mile. What challenges have you seen, and how have you helped retailers fulfill it? When we see companies taking stores that have been closed and turning them into "dark stores" and centers of fulfillment, [what impact does that have]?
SH: That's typically the first step. To take existing store and either turn it into a dark store or pickup from an existing store – and that's going to stay around. That's not going to go away. That'll be there.
You're going to have picking from storage for fulfillment where there is high velocity, high demand and high density consolidating that, and automating that will absolutely happen now. … Why are they going manual first? Well, it's quick. It's quick, and it's cheap. And they can. It's lower risk. …
We're starting to see a transformation of and leveraging of retail footprints to be able to provide the localness for eCommerce fulfillment.

Latest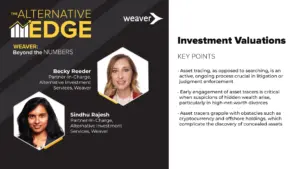 December 4, 2023
In this episode of The Alternative Edge, a Weaver: Beyond the Numbers Podcast, host Becky Reeder, an audit partner and co-leader of the alternative investments practice at Weaver, engages with Sindhu Rajesh, an Alternative Investment Services Partner with Weaver. They unpack the complexities of venture fund valuations, offering critical insights into industry dynamics and best […]
Read More