Strengthening Customer Loyalty with Data
Designed for retail leaders and lovers alike, Retail Refined explores the in-store technology of the future, challenges the industry's preconceived notions, and brings together retail's biggest names to understand the brand strategies that will define the next decade in retail.
An important part of the retail ecosystem is customer loyalty. Retailers and brands fight hard to win over consumers, and many find success with reward programs. That's today's topic on Retail Refined. Host Melissa Gonzalez welcomed Jaysen Gillespie, SVP of Data and analytics for Shopkick. Gillespie has over two decades of experience in the industry and oversees all aspects of data and analytics for Shopkick. This retail app rewards consumers and feeds retailers and brands essential consumer data.
The life of a consumer is changing, and while COVID-19 didn't create these recent trends, it did accelerate them. Gillespie said, "Consumers want to know more. They are researchers, and they also care about the values of brands."
Shopkick partners with retailers and brands to support their customer loyalty programs. "There's a misconception if you have one, customers will love it. Not true if it doesn't benefit them or is limited or confusing. It does impact buying behavior. A recent study we did found 69 percent of customers consider the quality of loyalty programs in buying," Gillespie shared.
In looking at how COVID has changed brand loyalty, supply chain disruptions caused some defection. If the brand of choice wasn't available, shoppers had to consider alternatives. "What brands can learn from this how to improve operations to prevent this hopefully," Gillespie added.
While in-store shopping suffered during the pandemic, Gillespie thinks there is an upside ahead. "Our research shows that people want to shop and dine again. The key is for brands and retailers to marry brick and mortar with the digital world. There's a lot of room for retail innovation."

Latest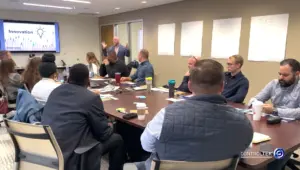 December 4, 2023
The video captures highlights from the CONTROLTEK Design Thinking Workshop specifically tailored for Burlington Stores. It shows interactive sessions, engaging group activities, and innovative brainstorming, emphasizing CONTROLTEK's commitment to developing customized retail solutions in collaboration with the Burlington Stores team.
Read More