The Importance of Building an Omnichannel Experience in Retail
Designed for retail leaders and lovers alike, Retail Refined explores the in-store technology of the future, challenges the industry's preconceived notions, and brings together retail's biggest names to understand the brand strategies that will define the next decade in retail.
The ecosystem of eCommerce is always evolving, and the last year has seen a rapid pivot for retailers. So, what can an eCommerce expert share? Host Melissa Gonzalez sat down with Hatch CEO and Founder Joris Kroese to learn more about what Hatch does and the changing online shopping environment.
Kroese has an extensive history in eCommerce, once owning a brand that sold technology products. He noticed that the manufacturers weren't usually sellers, and consumers weren't able to find where they could buy a TV or appliance. This "hatched" the idea of Hatch, an eCommerce platform that connects brands and retailers.
In looking at the last year, Kroese said, "I was surprised at the agility of retailers and the pace at which they adapted. It happened in months, not years."
The acceleration of online sales in the pandemic was astronomical, and Kroese said, "We are driving consumers to online retailers, and some clients are seeing 20 times for business than the year prior."
He does acknowledge there were and are hurdles to retail in the pandemic. "Coping with the supply for online demand, the supply chain, delivery logics, brick and mortar stores shifting to digital, which requires different skillsets and comes with new competition," he noted.
While eCommerce is climbing, Kroese doesn't believe in-store experiences are over. In fact, having a local store is a good complement to digital channels.  "Omnichannel solutions provide a competitive advantage. With local stores, you have proximity and the ability to see the product and get advice from a salesperson. That's not going away," he commented.
Overall, the new retail experience should be seamless from online to offline. Physical stores are also filling the needs of eCommerce, offering BOPIS (buy online pick up in-store), curbside, and last-mile delivery. Kroese believes these trends will continue. "Those retailers that embrace these changes will do well," he added.

Latest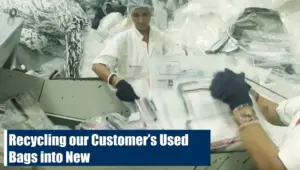 December 6, 2023
This video focuses on EcoLOK4, a groundbreaking product by CONTROLTEK that exemplifies innovation in sustainability. It highlights the process of transforming landfill waste into new deposit bags, with 90% of each bag's material being repurposed trash. This initiative not only reduces waste but also closes the sustainability loop, demonstrating CONTROLTEK's commitment to environmentally friendly […]
Read More