Addressing Retail's Experience Challenges with Data
As a Senior Manager on the Strategy and Insights for Retail and Consumer Goods team at Salesforce, Caila Schwartz's goal is simple – help retailers gain a competitive edge via actionable data and insights.
Schwartz joined Retail Refined for a conversation with host Melissa Gonzalez on how that goal takes shape in practice, diving into the ways Schwartz and her colleagues attempt to get retailers up to speed with the ever-shifting retail landscape.
The pace of that evolution has picked up even more than normal during the COVID-19 pandemic, as the shift to a greater shift on eCommerce, changing customer expectations and more have forced retailers to adapt sooner than they might have expected.
"I think about where we were almost a year ago, and we were talking about the role of the store. We were saying, hey, the store has three main purposes – it's for experience, it's for product discovery, and it's for fulfillment," Schwartz said. "Now, all of the sudden, it's become exclusively around fulfillment."
That's caused foundational shifts to inventory-management solutions and more tailored to this fulfillment role, and Schwartz said that's far from the only major shift retailers have seen among consumers, who have also adopted digital behaviors faster than ever before.
Gonzalez and Schwartz also explored the creation of engaging, tailored experiences, emerging and growing technologies like AI, and Schwartz's forecast for the months ahead.
Latest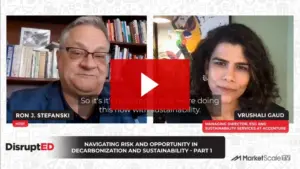 September 26, 2023
The global conversation has shifted dramatically towards decarbonization and sustainability in recent years. With the world experiencing unprecedented levels of disruption, from 5G technology to the challenges of a pandemic, the urgency to address climate change and its implications has never been more palpable. Although most business leaders see the vision of Sustainable Development […]
Read More